Yoga Sticks Stretching Tool
Regular price
$59.99
Sale price
$54.99
Save 8%
/
---
‍‍‍
About this item
Adjustable Length, Free Expansion

: Meet the needs of different heights, the shortest 52cm and the longest 86cm can be adjusted, simple and convenient operation, and you can take the Yoga Stick to the gym or other places you want.
Available for the Whole Family: Unlike wearable posture corrector, you don't need to wear it all the time and it only needs to be used for 10 to 30 minutes a day at your leisure. Our posture corrector is suitable for adults and children, One Posture Corrector can be used by the whole family, With a lanyard for easy storage
Smooth Surface: Made of stainless steel and foam, the reinforced stainless steel pipe is strong and durable, safe and environmentally friendly, does not hurt hands, and the high-density foam is soft and comfortable.
New Cover Design: One-click, one-rotate, and one-fix, strong and reliable, help you open your shoulders, you will have a straight posture and be more confident, healthy, and younger. Improve your overall spine health and posture.
Multifunctional: Sitting in front of the computer for a long time can cause back and shoulder discomfort. The yoga stick can not only be used to improve hunchback, chest expansion, open back and standing training, pull your shoulders to the real position, correct bad posture, but also increase self-confidence and improve your temperament.

---
Description 

After a lot of research, we found that most of the current posture correctors can not satisfy customers, so we developed this product. In many countries, most families have a posture corrector, which people use to correct posture, and yoga exercises because it is very effective and can be used by adults and children. You can try it.

More Healthier, More Confident You! The difference our posture corrector can make for you and your family!

Perfect for Yoga enthusiasts, Office workers, Low-headed people, students, and gifts for family and friends.
The retractable design is very convenient, and both adults and children can use it.
Built a good posture for your kids, a good posture is essential to the healthy growth of children
Relief of back pain, relieve chest hunchback, neck, and back pain caused by long-term work and looking down at mobile phone and computer.
Unlike the wearable posture corrector, it doesn't strangle your shoulders, it doesn't sweat, and if you keep using it for 10-20 minutes a day, it will have amazing results.
Made of stainless steel and foam, the reinforced stainless steel pipe is strong and durable, and the high-density foam is soft and comfortable.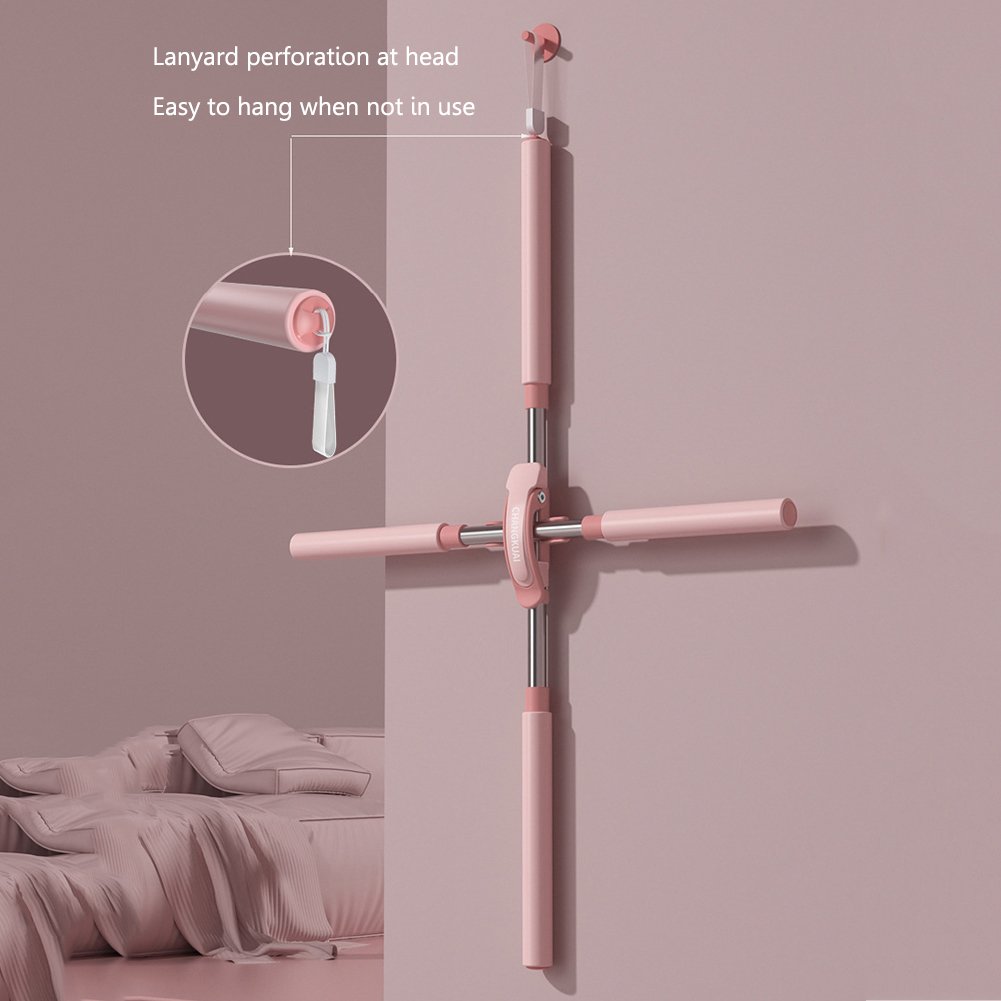 The improper posture of students can easily cause myopia, poor overall temperament, and affect bone growth.

Hunchbacked people have poor overall posture and are in great need of posture correction
Office workers often have back pain, our posture corrector can stretch their back, use a few minutes after the body is obviously a lot more comfortable
Features:
😍Safe to use, durable, and environmentally friendly. You can use it with more confidence..
😍Applicable Place: To create a beautiful figure, reshape the charming body and correct the tight waist and the front of the neck.
😍Smooth Surface: Its smooth surface doesn't hurt the hands, without burrs, with manual polishing, smooth and comfortable touch.
😍Function: Give the slim S-shaped waist, create a beautiful chest, and shape the beautiful body.
😍Using Method: Put the stick inside and take it out, keep the holder tight, and slowly tighten your head. Open your shoulders to correct the contracted waist and reshape the beautiful body.
Adjustable Length, Free Expansion: Meet the needs of different heights, the shortest 54cm and the longest 86cm can be adjusted, simple and convenient operation, and you can take the Yoga Stick to the gym or other places you want.
---
Specification:
Material:stainlesssteel+foam+PP3, safe to use, durable leaden environment tally friendly. You can use it with more confidence!
Length:54-86cm
General Shipping Policy
Shipment processing time
After you have successfully placed your order with boosterss.com. Your order will be confirmed within 24 hours. This does not include weekends or holidays.  You will receive an email with information regarding the details of your order.
Your order will be shipped within 2 business days after the order is confirmed.  Purchases made after 1 pm PT will not be shipped out until the next business day. If you order after 1 pm PT on a Friday, your order will likely be shipped out on the following Monday (public holiday is not included).
We currently ship worldwide
2. Shipping Costs & Delivery Times
| | | | |
| --- | --- | --- | --- |
| Shipping Carrier & Service | Total Price | Shipping Cost | Shipping Time |
| STANDARD | Over 59$ | Free | 7-15 Business Days |
| STANDARD | 0-58.99$ | 0-9.99$ | 7-15 Business Days |
| EXPRESS  | Over 0$ | 15.99$ | 3-7 Business Days |
*Affected by Covid-19, there will be some delay on the delivery.
Shipment confirmation & Order tracking
You will receive a Shipment Confirmation email once your order has shipped containing your tracking number(s). The tracking number will be active within 4 days.
Customs, Duties, and Taxes
Booster™ is not responsible for any customs and taxes applied to your order. All fees imposed during or after shipping are the responsibility of the customer (tariffs, taxes, etc.).
Damages
Booster is not liable for any products damaged or lost during shipping. If you received your order damaged, please contact the shipment carrier to file a claim.
Please save all packaging materials and damaged goods before filing a claim.
Covid-19 Information:
Please note, that due to COVID-19, many shipping companies are prioritizing the shipments and receiving emergency and necessary medical equipment. This could mean that your package may be withheld from the shipping company for an extended period of time which would lead to longer wait times and delays. We hope you understand, as this is something completely out of our control.
1、LIMITED WARRANTY TERMS
WARRANTY PERIOD
*The warranty period is 18 months from the date of purchase stated on your proof of purchase. 
HOW DO I CHECK MY 
BOOSTERGUNS
WARRANTY?
If you purchased the BoosterGuns directly at boostess.com, your warranty will have automatically registered.
WHAT IS 
BOOSTER
WARRANTY COVERED?
Booster products are manufactured with high-quality parts designed to last. If any malfunctions occur, your limited warranty covers:
• BoosterGuns Device & Motor - 18 months
• BoosterGuns Lithium-ion batteries - 18 months
•BoosterGuns Massage Attachments - 18 months (You can order new massage attachments at booster).
WARRANTY EXCLUSIONS
The Limited Warranty does not apply to any:
Use in commercial or industrial applications;
Improper power supply such as low voltage, defective household wiring, or inadequate fuses;
Damage caused by external influences;
Damage caused by use with non-approved products and accessories;
Damage caused by operating the Product outside the permitted or intended uses described in the user instructions, such as using in abnormal operating conditions (extreme temperatures);
Damage due to acts of nature, for example, lightning strikes, tornadoes flood, fire, earthquake, or other external causes;
2、REMEDIES
 If a hardware defect is found, Booster will exchange you for a new one, and we don't repair the defective one. 
The purchaser shall not be charged (whether for parts, labor, or otherwise) for the replacement of a defective Product during the Warranty Period.
3、HOW TO OBTAIN WARRANTY SERVICE?
To request a Warranty Service within the warranty period, please first contact the support team for a warranty check. You must provide:
Your name
Contact information
The original invoice or cash receipt, indicating the date of purchase, dealer name, and model number of the product
We will determine the problem and the most appropriate solutions for you. Please keep the packaging your product arrived in or packaging providing equal protection so that you have the required packaging available in the event of a return.
4、CONTACT INFORMATION
For customer support, please email us at
service@boosterss.com
Q&A
1. Q: Does the product have a warranty? What to do if there is an after-sales problem?
A:Our products have an 18-month warranty and we will provide after-sales service. If there is any problem with the product, please feel free to contact us the first time, we will help you solve the problem.

2. Q:How long does it take to ship?Will provide the tracking number?
A:We have warehouses in the United States, Russia, France, Spain, Poland, and the Czech Republic. In the case of stock in an overseas warehouse, it will be shipped from the nearest warehouse according to the receiving address. If shipping from China, we will choose fast logistics, usually you can receive the package within 15 business days after payment.
We will provide a tracking number for each order.

3. Q:Do you provide an English manual?
A:We provide an English manual in the package.

4. Q: What if I am not satisfied with the product?
A:If you are not satisfied after receiving the goods, please contact us as soon as possible. Free return and exchange within 15 days of receipt.

5. Q:How about the quality of the products?
A:My friend, please don't worry about the quality. Booster is a top brand in China, our philosophy is to use technology to protect health and focus on the field of sports recovery. We are committed to producing products with guaranteed quality.