Pro3 Massage Gun(New Updated From Pro2)
Regular price
$298.98
/
---
About this item
RELIEVES MUSCLE SORENESS- 2022 The best buy percussion massage gun with 6 interchangeable head attachments and 4 speeds ranging from 1300 to 3,300 rpm helps runners, athletes, long-term volt caseworkers, office crowd, drivers, bodybuilders, fitness enthusiasts, and sports enthusiasts, etc. or anyone has muscle pain problem, need a deep tissue massage for back neck leg muscle sore, melt away your body fatigue and soreness after workout or long time work.

PORTABLE & QUIET MASSAGE GUN- About 35- 50dB working sound level, It can be easily used at home, office, gym and will not disturb others. It is lightweight for its size(Only 2.65 lb; Gross weight 5.73lb with carrying case) and has a great compact carrying case to transport whenever you are on the go.

ACCURATE DEEP TISSUE MASSAGE- The Booster™ Pro3 best buy massage gun amplitude of up to 12mm working back and forth provides rapid bursts of pressure into the body's deep muscle tissue, which sends a ripple effect across the skin's surface, the vibrations penetrate deep to relieve pain, eliminate cellulite, digs into those tough knots and targets the necessary areas and relives the pain instantly.

2400mAh LONG-LASTING BATTERY CAPACITY- Can continuously work at least 3.5-6 hours, normal daily use can last 4-6 weeks with fully charged (depending on the massage intensity you use, and turn off from the bottom when not used). The charging voltage rate is 100V-240V 50/60Hz Max 1A.

A GREAT GIFT CHOICE- An ideal gift for Valentine's Day, Mother's Day, Father's Day, Christmas, Birthday. Great for those who sit at a desk for a long time, suffer from neck tension and shoulder blade tension, calf swelling. The percussion massage gun is great for myofascial trigger points and muscles sore from poor posture and exercise. Also great to help recover from delayed onset muscle soreness after workouts and physical activities.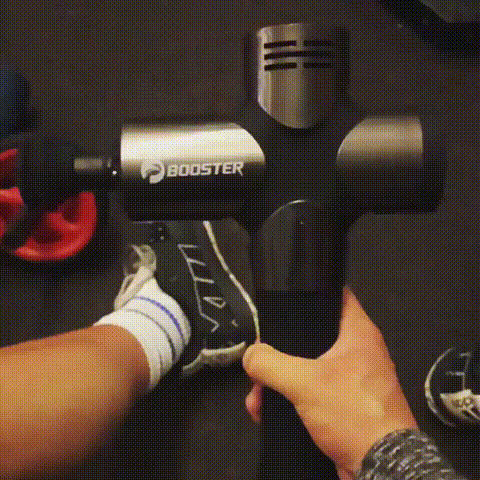 ---
DESCRIPTION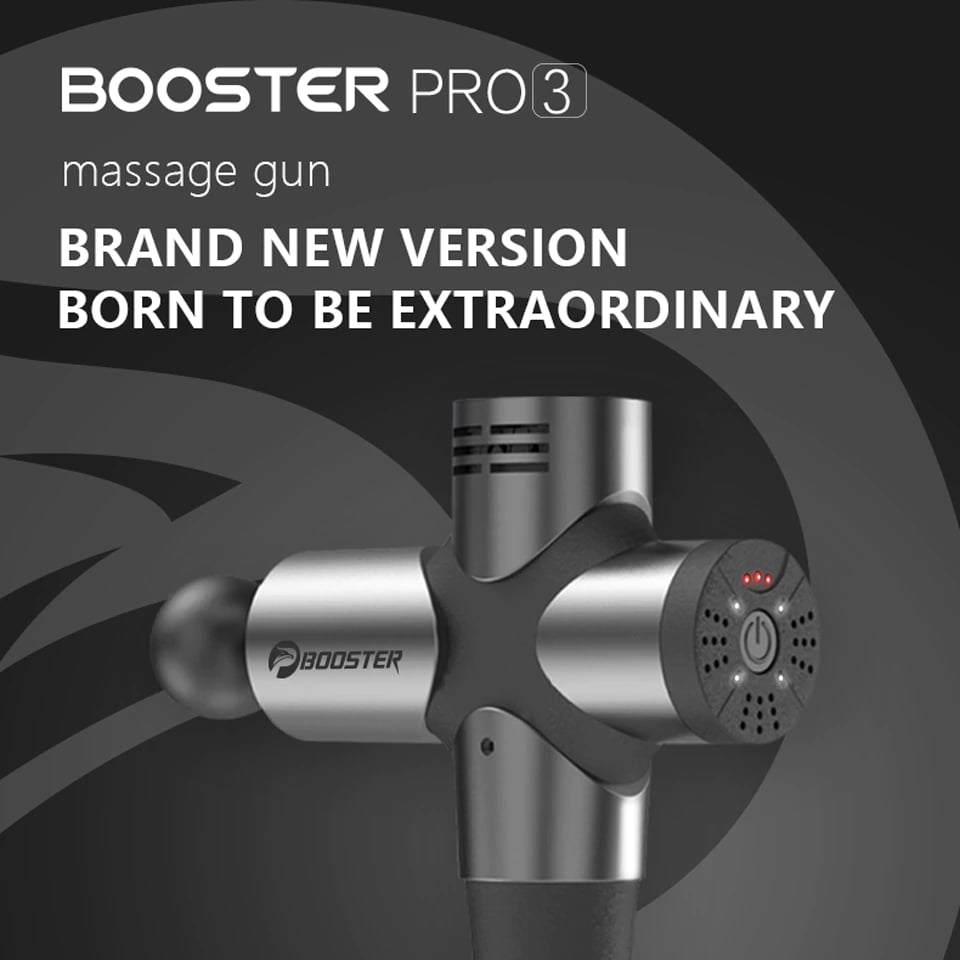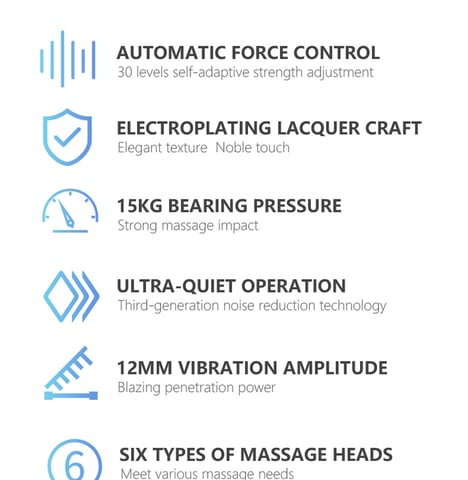 Booster™ Pro 3
The Booster™ Pro 3 is loaded with industry-leading specifications in every category.
This device was not designed for casual users. If you are looking for a weak and small Massage Gun, this is not for you.
If you want one of the most powerful recovery tool available that also offers ultra-quiet use and variable speeds that lasts for 6 hours at a time, the Booster™ Pro 3 is everything you're looking for and more.
It is the ONLY massage gun that offers a Pressure Control System.
Choose from 4 variable speeds while the Booster Pro 3 automatically shifts through 30 different levels of pressure. This is our real-time Pressure Control System that is scientifically proven to give you the best massage experience possible. 
INDUSTRIAL-GRADE

BRUSHLESS MOTOR
Professional high-power brushless motor combined with 24V power Lithium battery generates blazingly strong impact, which contains 60lbs bearing pressure and penetrates the vibration effect to deep muscles.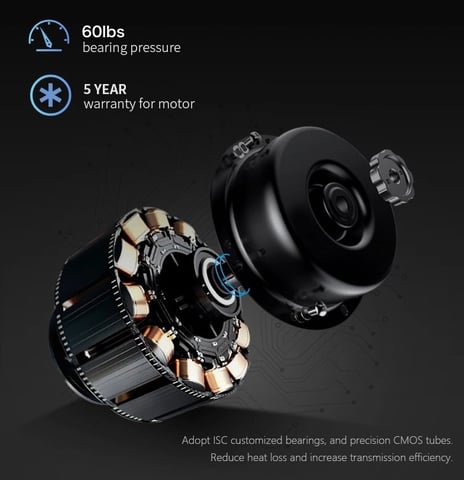 INTELLIGENT VARIABLE

 

PRESSURE CONTROL SYSTEM

Second-generation variable pressure control system achieves real-time press force monitoring. When the strength increases, the feedback system reinforces the motor torque, and thus amplifies the impact strength, achieving deep muscle relaxation.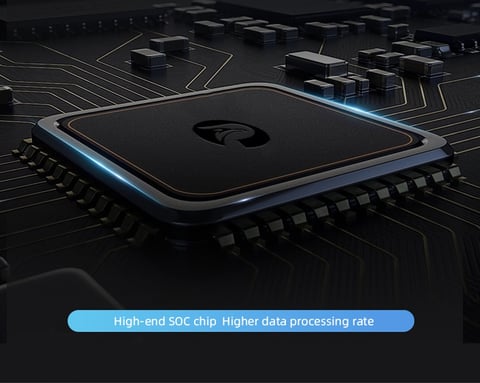 FOUR-SPEED GEAR VARIATION
30 LEVELS
SELF-ADAPTIVE

STRENGTH ADJUSTMENT

Booster™ Pro3 integrates ergonomics and skeletal mechanics theory. The new design adopts a 4-speed variable pressure model and 30 levels self-adaptive strength system, bringing you comfortable relaxation experiences.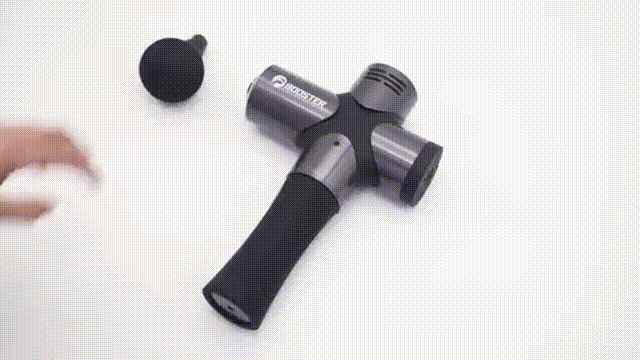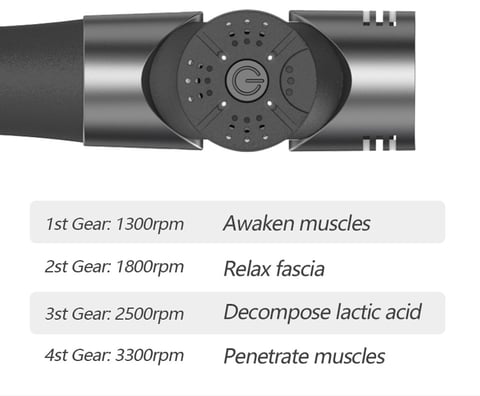 PERFECT MIX

OF

 

ENGINEERING AND AESTHETICS

ERGONOMIC GRIP GOLDEN RATIO BODY

A curved surface design is more comfortable for the palm. Being elegant and ergonomic, the golden ratio body design shows a delicate touch.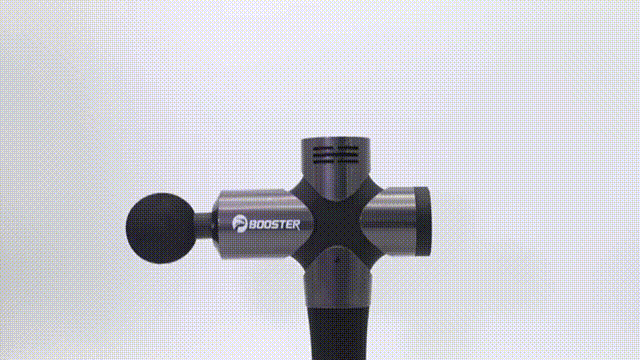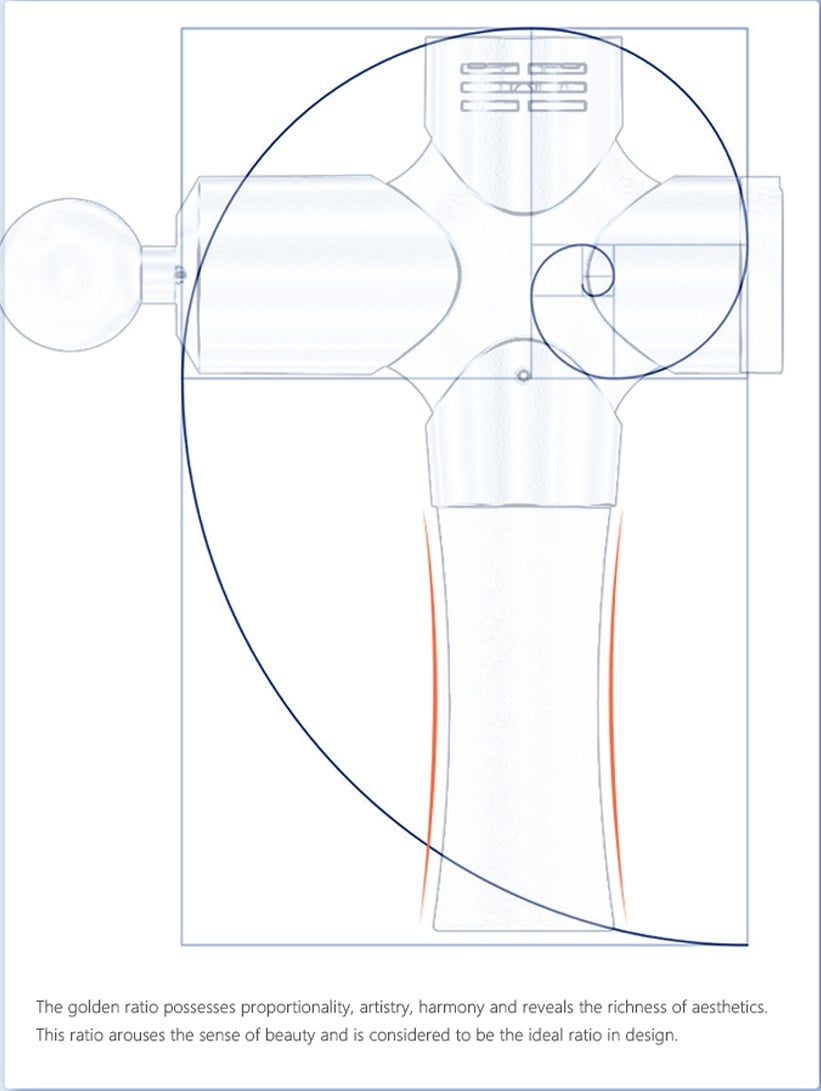 2400MAH POWER

LITHIUM BATTERY
15 DAYS EXTRA-LONG

BATTERY LIFE
6pcs of 2400mAh power Lithium battery creates blazing power and brings prolonged battery life, that is, a half-month duration for the 20 minutes use every day.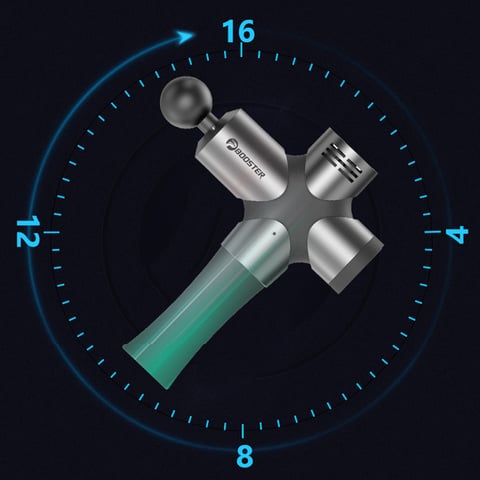 TAKE CARE OF
EACH MUSCLE GROUP
STANDARD
 

6

 

TYPES OF MASSAGE HEADS

The customized pneumatic soft head creates a cushion when contracting muscles, which is more suitable for fascia and sensitive muscle groups.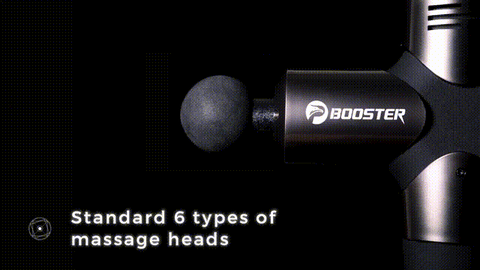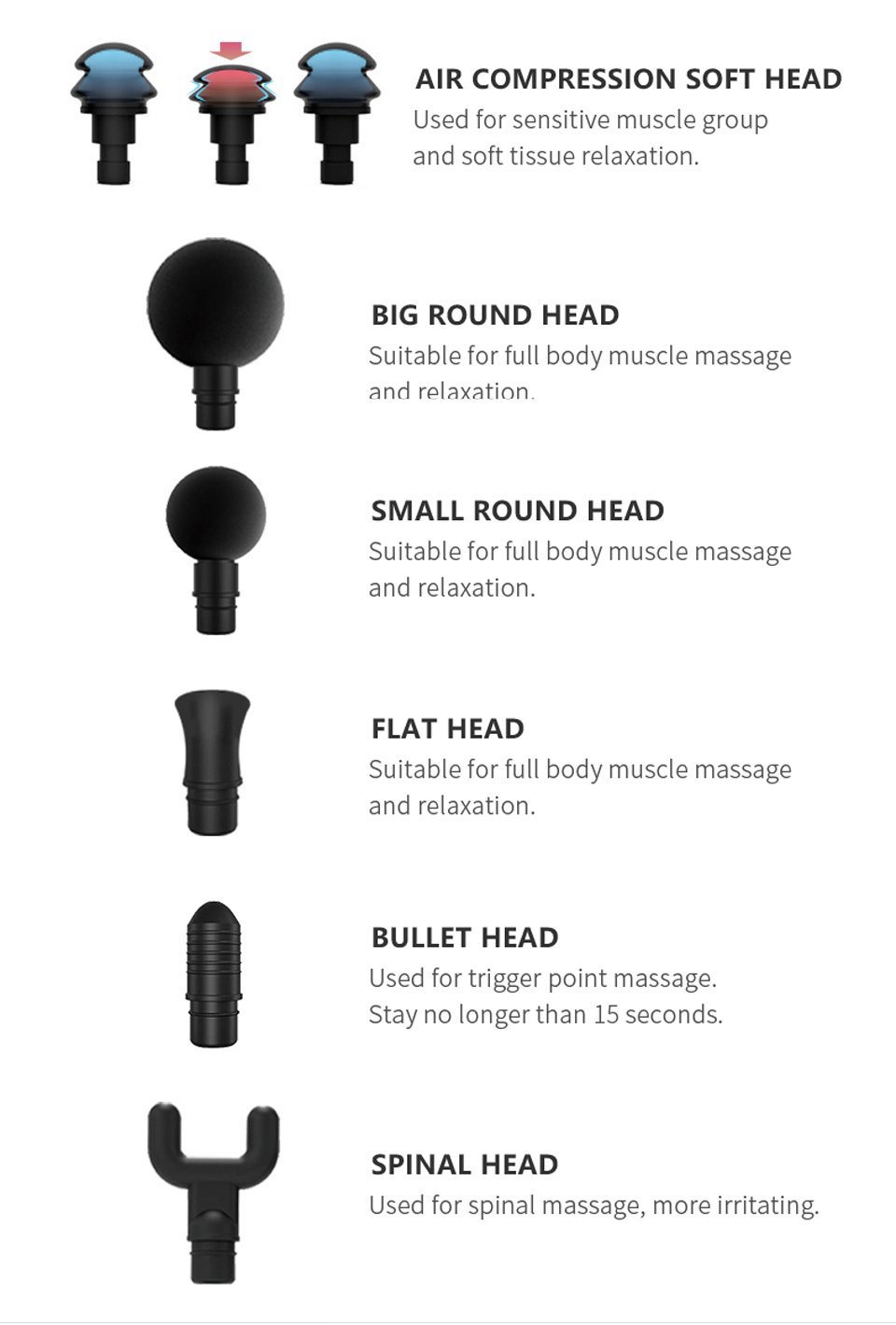 ---
How to use it?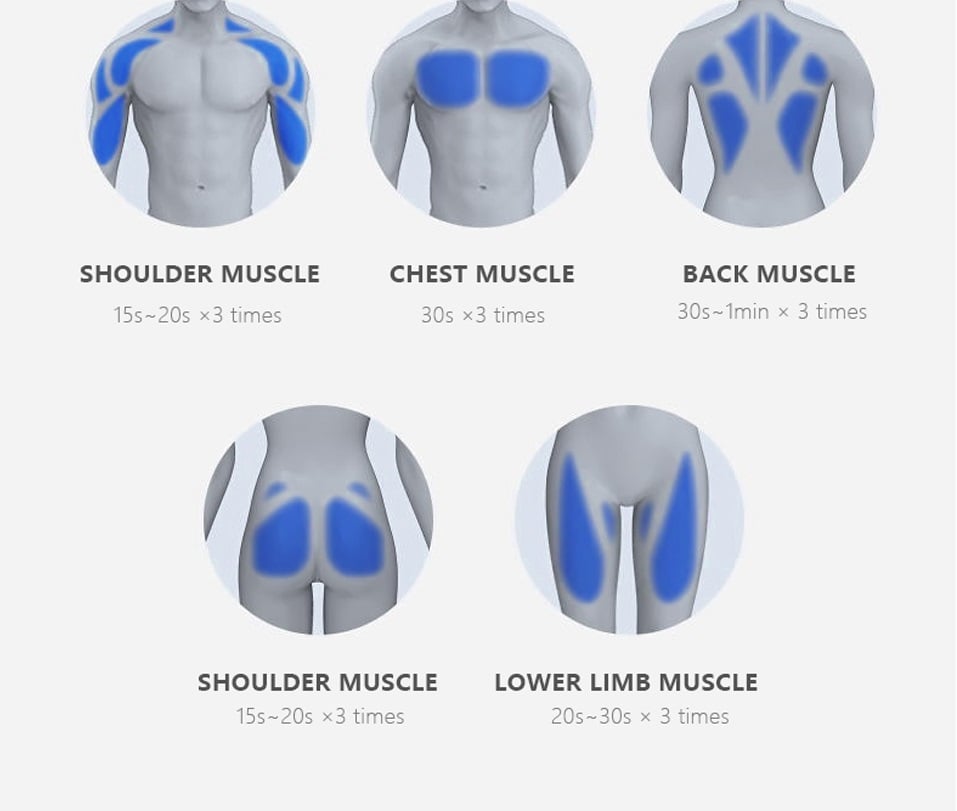 PRECAUTIONS!
1. Do not touch the massage head when the device is running.
2. Do not use the device for a long time in the same area.
3. If you feel unwell, please stop using the device immediately.
4. Do not use the device on infants, minors, pregnant women,
pacemaker users, and people with fractures or metal contents.
---
Specifications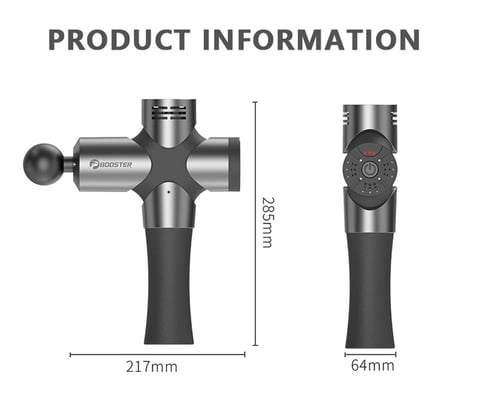 Charger
Rated input             100-240V~50/60Hz,24W
Rated output          24V/1A
Battery
Rated voltage        21.6V 6INR19/66
Type                       Lithium battery
Capacity                 2400mAh
Massage gun
Frequency             1st Gear 1300, 2nd Gear 1800
                              3th Gear 2500, 4th Gear 3300
Stroke                   12mm
Weight                  1.2kg
Power                   126W max
Size                       285*217*64mm

What's Included
1 x Booster Pro 3 Massage Gun
6 x Attachments
1 x 24v Lithium-ion Battery ( built-in )
1 x Charger
1 x User Manual
1 x Carrying Box 
General Shipping Policy
Shipment processing time
After you have successfully placed your order with boosterss.com. Your order will be confirmed within 24 hours. This does not include weekends or holidays.  You will receive an email with information regarding the details of your order.
Your order will be shipped within 2 business days after the order is confirmed.  Purchases made after 1 pm PT will not be shipped out until the next business day. If you order after 1 pm PT on a Friday, your order will likely be shipped out on the following Monday (public holiday is not included).
We currently ship worldwide
2. Shipping Costs & Delivery Times
| | | | |
| --- | --- | --- | --- |
| Shipping Carrier & Service | Total Price | Shipping Cost | Shipping Time |
| STANDARD | Over 59$ | Free | 7-15 Business Days |
| STANDARD | 0-58.99$ | 0-9.99$ | 7-15 Business Days |
| EXPRESS  | Over 0$ | 15.99$ | 3-7 Business Days |
*Affected by Covid-19, there will be some delay on the delivery.
Shipment confirmation & Order tracking
You will receive a Shipment Confirmation email once your order has shipped containing your tracking number(s). The tracking number will be active within 4 days.
Customs, Duties, and Taxes
Booster™ is not responsible for any customs and taxes applied to your order. All fees imposed during or after shipping are the responsibility of the customer (tariffs, taxes, etc.).
Damages
Booster is not liable for any products damaged or lost during shipping. If you received your order damaged, please contact the shipment carrier to file a claim.
Please save all packaging materials and damaged goods before filing a claim.
Covid-19 Information:
Please note, that due to COVID-19, many shipping companies are prioritizing the shipments and receiving emergency and necessary medical equipment. This could mean that your package may be withheld from the shipping company for an extended period of time which would lead to longer wait times and delays. We hope you understand, as this is something completely out of our control.
1、LIMITED WARRANTY TERMS
WARRANTY PERIOD
*The warranty period is 18 months from the date of purchase stated on your proof of purchase. 
HOW DO I CHECK MY 
BOOSTERGUNS
WARRANTY?
If you purchased the BoosterGuns directly at boostess.com, your warranty will have automatically registered.
WHAT IS 
BOOSTER
WARRANTY COVERED?
Booster products are manufactured with high-quality parts designed to last. If any malfunctions occur, your limited warranty covers:
• BoosterGuns Device & Motor - 18 months
• BoosterGuns Lithium-ion batteries - 18 months
•BoosterGuns Massage Attachments - 18 months (You can order new massage attachments at booster).
WARRANTY EXCLUSIONS
The Limited Warranty does not apply to any:
Use in commercial or industrial applications;
Improper power supply such as low voltage, defective household wiring, or inadequate fuses;
Damage caused by external influences;
Damage caused by use with non-approved products and accessories;
Damage caused by operating the Product outside the permitted or intended uses described in the user instructions, such as using in abnormal operating conditions (extreme temperatures);
Damage due to acts of nature, for example, lightning strikes, tornadoes flood, fire, earthquake, or other external causes;
2、REMEDIES
 If a hardware defect is found, Booster will exchange you for a new one, and we don't repair the defective one. 
The purchaser shall not be charged (whether for parts, labor, or otherwise) for the replacement of a defective Product during the Warranty Period.
3、HOW TO OBTAIN WARRANTY SERVICE?
To request a Warranty Service within the warranty period, please first contact the support team for a warranty check. You must provide:
Your name
Contact information
The original invoice or cash receipt, indicating the date of purchase, dealer name, and model number of the product
We will determine the problem and the most appropriate solutions for you. Please keep the packaging your product arrived in or packaging providing equal protection so that you have the required packaging available in the event of a return.
4、CONTACT INFORMATION
For customer support, please email us at
service@boosterss.com
Q&A
1. Q: Does the product have a warranty? What to do if there is an after-sales problem?
A:Our products have an 18-month warranty and we will provide after-sales service. If there is any problem with the product, please feel free to contact us the first time, we will help you solve the problem.

2. Q:How long does it take to ship?Will provide the tracking number?
A:We have warehouses in the United States, Russia, France, Spain, Poland, and the Czech Republic. In the case of stock in an overseas warehouse, it will be shipped from the nearest warehouse according to the receiving address. If shipping from China, we will choose fast logistics, usually you can receive the package within 15 business days after payment.
We will provide a tracking number for each order.

3. Q:Do you provide an English manual?
A:We provide an English manual in the package.

4. Q: What if I am not satisfied with the product?
A:If you are not satisfied after receiving the goods, please contact us as soon as possible. Free return and exchange within 15 days of receipt.

5. Q:How about the quality of the products?
A:My friend, please don't worry about the quality. Booster is a top brand in China, our philosophy is to use technology to protect health and focus on the field of sports recovery. We are committed to producing products with guaranteed quality.