Heated Leg Massager
Regular price
$88.99
/
---
About this item
Multifunction & Portable- Keepfit cordless leg massagers with Heat And Compression provide 3 massage modes(Press/Shiatsu/Knead) with different pressure intensities. Heat function can be adjusted. Calf leg massagers relax your legs at home, in the office, gym or during travel anytime you need. You can even enjoy an afternoon walk with your dog.
Faster Recovery & Relieve Pain- Leg massagers for pain relief adopt a similar hand massage technique to knead and squeeze your legs to relieve fatigue and soreness, improving blood circulation to relax your muscles deeply, release your stress for a better night's sleep, Improve your daily performance and faster recovery after training or exercise.
Adjustable Size & Easy to Use- Portable leg massagers are with velcro closures, much easier to wear up and adjust the size. Fine soft and breathable fabric material perfectly fits the calf and helps relieve fatigue through heat and compression. Your whole family can use one or both of them, not only on calves but also knees, arms and feet.
Rechargeable & Longer Working Time- Rechargeable calf massager for circulation can be charged with any USB device. Built-in 2600mAh battery can work for 2-3 hours between charges. 30-minute automatic shut-off function is safe and practical. It also can be used separately.
Gift For Your Love- A calf massager is a good gift choice for your family and friends on Father's Day, Mother's Day, Christmas, Thanksgiving Day, New Year, Birthday, etc. It will be a great gift for dad, mom, grandparents, and good friends to enjoy a wonderful massage. If you have any problems while using it, please contact us.
---
Description 

Do You Suffer From Horrible Pain In Your Legs And Feet?
If you're reading this chances are either you or a loved one is paying the price for a life spent on your feet -
suffering horrible and debilitating pain, discomfort, and swelling.
Perhaps it's the result of regular physical exercise?
Maybe you're recovering from an injury or operation?
Or it might even be the result of an underlying health condition such as
diabetes, arthritis, or sciatica.
The result?
Chronic, persistent pain and swelling keep you off your feet, exhausted, sleep-deprived, and in a state of discomfort. You have the opportunity to change this all. The Heated Leg Massager from 
Booster
eliminates pain, swelling, and discomfort in just 10 minutes a day.
5 DAYS PROCESS

8 DAYS PROCESS

Naturally, Eliminate Leg Pain and Swelling
The#1 Reason pain and swelling occur is because of poor circulation.
Over time this leads to Sore ankles, feet, and knees. Tight ligaments. Nerve Pain. Restless Leg Syndrome. Tendonitis. The Booster Heated Leg Massager gently compresses and massages the leg muscles. At the same time, it creates a gentle warmth healing and restoring.  All it takes is 10 minutes a day for immediate relief from pain and discomfort. And only 7 days for permanent life-changing benefits.

Experience Life-Changing Benefits
The Booster will:
-
Instantly provide leg and foot pain relief
-
Eliminate debilitating swelling and pain
-
Improve circulation - Increase energy and vitality
Our Heated Leg Massager is effective against:
- Diabetes-related symptoms - Arthritis - Restless leg syndrome - Poor circulation - Sciatica (nerve pain) Pain & swelling - Neuropathy - Varicose veins
Feature
✔️ All-round leg massager:
 

It offers 360° three-dimensional all-around coverage of multiple calf acupuncture points.

 

Gradually apply pressure to your calves to relieve muscle soreness.
✔️

 
Multiple Modes & Intensities:
 

The leg wrap comes with a wearable controller that allows you to easily switch modes and intensities.

 

It helps in relaxing stiff muscles, relieving fatigue, and improving blood circulation.
✔️

 
Hot Function & Adjustable:
 

It can relieve fatigue and use the heating function to help people relax their muscles more effectively.

 

The wrap can be adjusted to your needs with a Velcro fastener.
✔️

 
Rechargeable:
 

It can be powered by any USB device.

 

Its portable design makes it an ideal travel companion.

 

You can use it at the gym, at home, or on the go.
✔️

PERFECT GIFT IDEA
:
 

It is the ideal gift for your family and friends.

 

You will enjoy wonderful massages daily.

 

You no longer have to use your hands to massage your legs.
 
Get a Personal Massage Therapist
We all know there's nothing that feels as good as a solid relaxing massage. Handling all of the
tension, aches & pain just melts away.
Did you know though?
Doctors recommend getting massages as the #1 way to boost circulation!
They even use them post-surgery to rapidly increase recovery time and improve energy levels in patients. Using the
Booster
Heated Leg Massager for
10 minutes provides the same benefits as getting a professional massage.
The difference is you can use them as often as you'd like and only pay once.
In just 7 days:
- The aches, pains, and swelling in your legs and feet will be gone - Your healthy circulation will be restored - You'll sleep better and regain your energy
The result? Permanent improvements to your circulation, pain relief, mobility, and overall quality of life!
---
Clinically Tried And Proven
Compression leg massagers have been
recommended by leading doctors and physical therapists.
The
Booster
Heated Leg Massagers
have been proven to be an effective, non-invasive, and low-cost treatment to
reduce swelling and discomfort.
The result is it
boosts blood flow to soothe tired and sore legs for better health and well-being. 
Here's how it works...
---
Will It Work For Me?
Do you suffer from:
- Ageing joints and ligaments - Arthritis and stiffness - Poor circulation caused by diabetes - Persistent nerve pain or sciatica - General aches and pains - Restless leg syndrome and can't sleep Then the Heated Leg Massagers from
Booster
have been created for you!
For best results, we recommend using it first thing in the morning or right before bed
In the morning

:
For all-day relief of swelling, aches, pains & discomfort.
At night before bed

:

 
To relieve any built-up tension, aches, pains, stress, and anxiety from the day. Will also ensure you get a full night of restful sleep - pain-free!
It's the miracle pain relief solution you've been looking for all these years!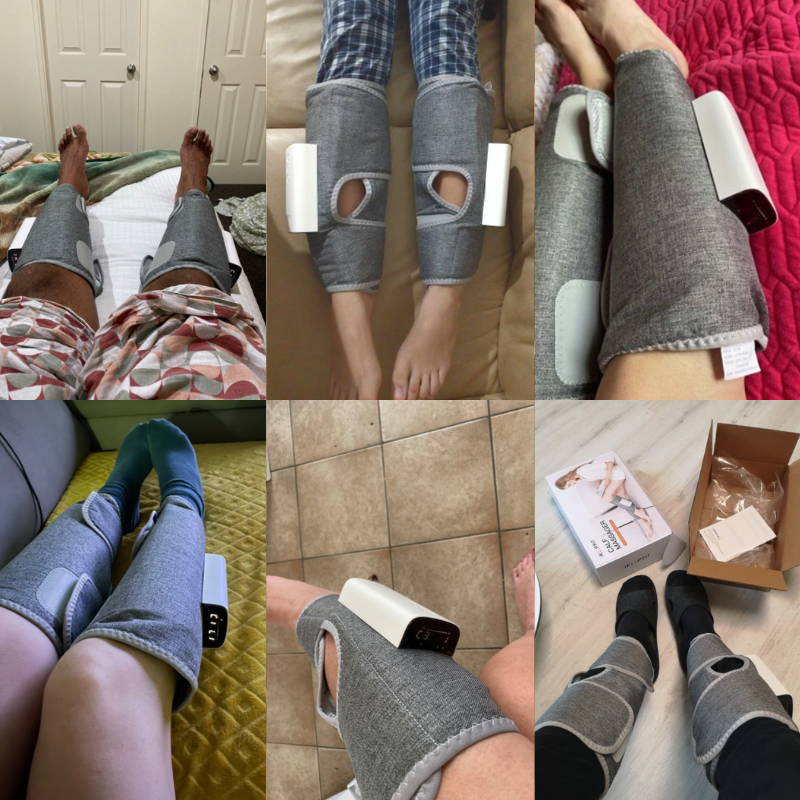 ---
How To Use It
Guaranteed Results And Easy To Use
1. Adjust Sizing

:

 
Adjust the fully adjustable soft-flex straps for the perfect fit. (One size fits all including oversized legs.)
2. Choose Intensity

:

 
3 Custom modes. Choose the perfect amount of pressure and massage for you.
3. Choose Heat:
Select the custom heat mode for added relaxation. (Heat function can be switched off)
4. Sit Back and Relax: Get a super relaxing deep tissue massage all from the comfort of your home.
* For best results we recommend using it once per day for 10 minutes per session.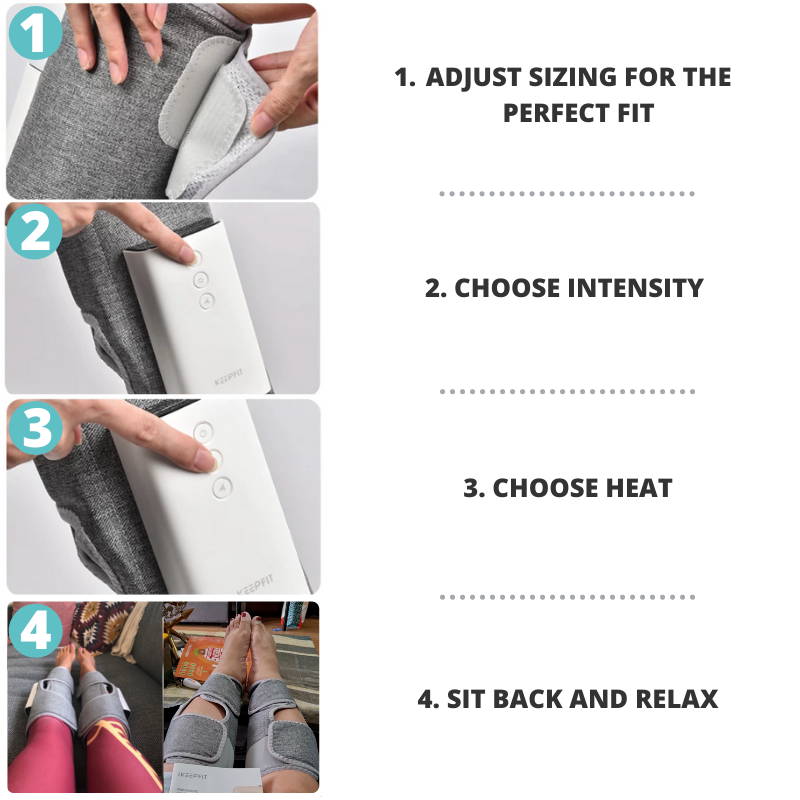 ---
Specification:

Timing time: 
30min

Product weight: 
about 400g

Leg strap size:
590* 350*2.5mm

Rated voltage: 
5V

Rated power: 
7.5W

Air Pressure Mode: 
Circulation Mode

Power supply method: 
rechargeable

Function: 
wireless remote control

Massage principle: 
air pressure
---
What's Included: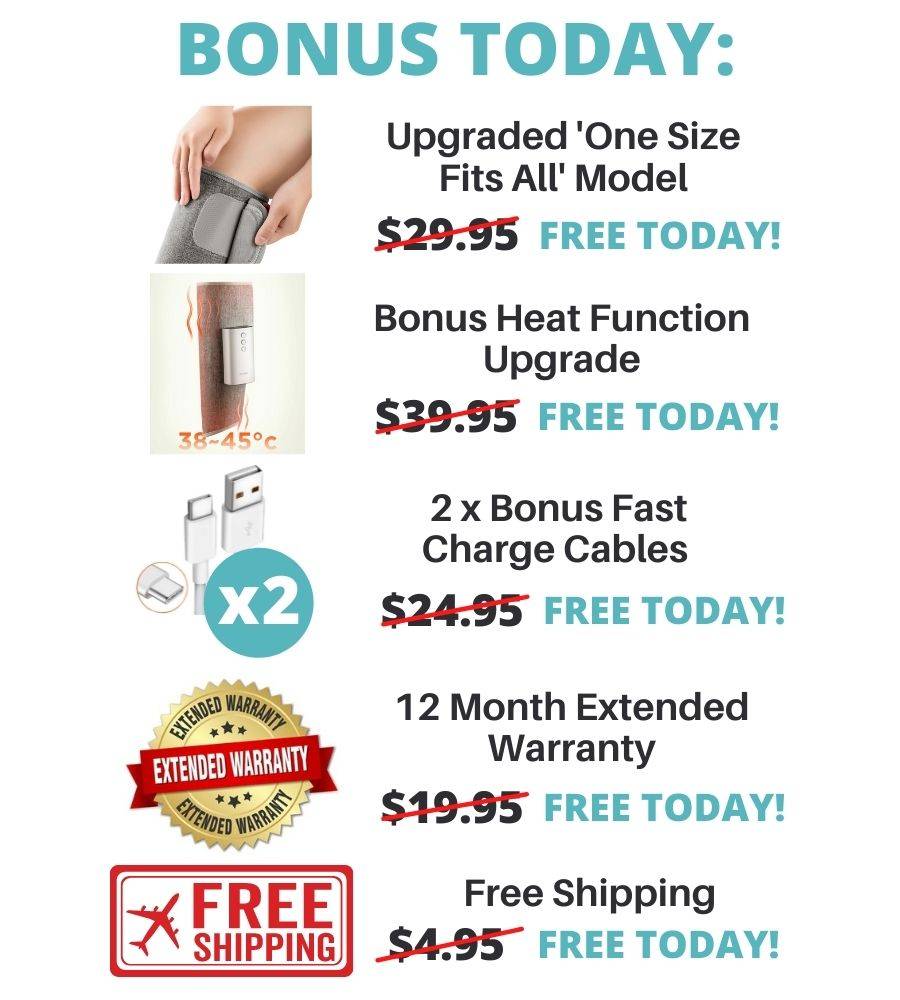 ---
Frequently Asked Questions
Q: How long until I see results?
A: From day 1! Most people notice a significant reduction in pain or swelling in the first 10 minutes. For long-term pain and swelling, you'll continually notice better and better results every day. After 7 days of use, you'd notice significant life-changing benefits.
Q: Will it fit my size legs?

A: Our leg massagers are designed to be one size fits all. We understand legs come in all shapes and sizes which is why they come with fully adjustable soft flex straps. Try them risk-free today and if you aren't satisfied with the fit simply send them back for a full refund!
Q: Will it work for my specific health condition?
A: The Booster Heated Leg Massager is proven to relieve pain, swelling, and discomfort caused by the following: - Diabetes - Arthritis - Sciatica - Lymphedema - Neuropathy - Restless Leg Syndrome (RLS) - Damaged/injured joints and ligaments - Surgery - Varicose veins - Swelling/fluid build-up - Repetitive strain injury - Ageing joints/ligaments
Q: How long should I use it?
A: For best results, we recommend using it 10 minutes a day for 7 days. However, you can use it as often as you like for a relaxing massage from the comfort of home.
Q: What if it doesn't work for me?
A: We know you'll love our Heated Leg Massager which is why we'll let you try it risk-free for 120 days. After 120 days if you're not happy with the results or you simply want to return it reach out to service@boosterss.com and one of our friendly team members will help you return it for a full refund.
Q: Will this work for my elderly mum/dad?
A: Yes! We get this question all the time. It will work wonders for your mum or dad. As we age circulation becomes one of the key indicators of good health and wellness. With repeated use, this massager can help older people to live a life full of energy and vitality, regain mobility and heal worn-out ligaments and joints.
General Shipping Policy
Shipment processing time
After you have successfully placed your order with boosterss.com. Your order will be confirmed within 24 hours. This does not include weekends or holidays.  You will receive an email with information regarding the details of your order.
Your order will be shipped within 2 business days after the order is confirmed.  Purchases made after 1 pm PT will not be shipped out until the next business day. If you order after 1 pm PT on a Friday, your order will likely be shipped out on the following Monday (public holiday is not included).
We currently ship worldwide
2. Shipping Costs & Delivery Times
| | | | |
| --- | --- | --- | --- |
| Shipping Carrier & Service | Total Price | Shipping Cost | Shipping Time |
| STANDARD | Over 59$ | Free | 7-15 Business Days |
| STANDARD | 0-58.99$ | 0-9.99$ | 7-15 Business Days |
| EXPRESS  | Over 0$ | 15.99$ | 3-7 Business Days |
*Affected by Covid-19, there will be some delay on the delivery.
Shipment confirmation & Order tracking
You will receive a Shipment Confirmation email once your order has shipped containing your tracking number(s). The tracking number will be active within 4 days.
Customs, Duties, and Taxes
Booster™ is not responsible for any customs and taxes applied to your order. All fees imposed during or after shipping are the responsibility of the customer (tariffs, taxes, etc.).
Damages
Booster is not liable for any products damaged or lost during shipping. If you received your order damaged, please contact the shipment carrier to file a claim.
Please save all packaging materials and damaged goods before filing a claim.
Covid-19 Information:
Please note, that due to COVID-19, many shipping companies are prioritizing the shipments and receiving emergency and necessary medical equipment. This could mean that your package may be withheld from the shipping company for an extended period of time which would lead to longer wait times and delays. We hope you understand, as this is something completely out of our control.
1、LIMITED WARRANTY TERMS
WARRANTY PERIOD
*The warranty period is 18 months from the date of purchase stated on your proof of purchase. 
HOW DO I CHECK MY 
BOOSTERGUNS
WARRANTY?
If you purchased the BoosterGuns directly at boostess.com, your warranty will have automatically registered.
WHAT IS 
BOOSTER
WARRANTY COVERED?
Booster products are manufactured with high-quality parts designed to last. If any malfunctions occur, your limited warranty covers:
• BoosterGuns Device & Motor - 18 months
• BoosterGuns Lithium-ion batteries - 18 months
•BoosterGuns Massage Attachments - 18 months (You can order new massage attachments at booster).
WARRANTY EXCLUSIONS
The Limited Warranty does not apply to any:
Use in commercial or industrial applications;
Improper power supply such as low voltage, defective household wiring, or inadequate fuses;
Damage caused by external influences;
Damage caused by use with non-approved products and accessories;
Damage caused by operating the Product outside the permitted or intended uses described in the user instructions, such as using in abnormal operating conditions (extreme temperatures);
Damage due to acts of nature, for example, lightning strikes, tornadoes flood, fire, earthquake, or other external causes;
2、REMEDIES
 If a hardware defect is found, Booster will exchange you for a new one, and we don't repair the defective one. 
The purchaser shall not be charged (whether for parts, labor, or otherwise) for the replacement of a defective Product during the Warranty Period.
3、HOW TO OBTAIN WARRANTY SERVICE?
To request a Warranty Service within the warranty period, please first contact the support team for a warranty check. You must provide:
Your name
Contact information
The original invoice or cash receipt, indicating the date of purchase, dealer name, and model number of the product
We will determine the problem and the most appropriate solutions for you. Please keep the packaging your product arrived in or packaging providing equal protection so that you have the required packaging available in the event of a return.
4、CONTACT INFORMATION
For customer support, please email us at
service@boosterss.com
Q&A
1. Q: Does the product have a warranty? What to do if there is an after-sales problem?
A:Our products have an 18-month warranty and we will provide after-sales service. If there is any problem with the product, please feel free to contact us the first time, we will help you solve the problem.

2. Q:How long does it take to ship?Will provide the tracking number?
A:We have warehouses in the United States, Russia, France, Spain, Poland, and the Czech Republic. In the case of stock in an overseas warehouse, it will be shipped from the nearest warehouse according to the receiving address. If shipping from China, we will choose fast logistics, usually you can receive the package within 15 business days after payment.
We will provide a tracking number for each order.

3. Q:Do you provide an English manual?
A:We provide an English manual in the package.

4. Q: What if I am not satisfied with the product?
A:If you are not satisfied after receiving the goods, please contact us as soon as possible. Free return and exchange within 15 days of receipt.

5. Q:How about the quality of the products?
A:My friend, please don't worry about the quality. Booster is a top brand in China, our philosophy is to use technology to protect health and focus on the field of sports recovery. We are committed to producing products with guaranteed quality.
The parcel is received within a week of payment. Everything is working. With this massager, the legs feel much easier. I'm working. After a lot of hours of standing well or just when I start to disturb the severity of many modes. Lots. Ways to adjust. Signal strength, the purchase is satisfied with the seller, I recommend.
Everything works, as it is written, the pressure and warming are regulated. Arrived quickly, packed in an additional box. Immediately put on charging, the charging process is visible and marks the end. Before bedtime-a separate pleasure and usefulness.
Toy colorful delivery ㄷ ㄷ ㄷ