Dual Pressure Point Massager
Regular price
$25.99
/
---
About this item

Controllable Massage Intensity – The two soft yet firm silicone balls can help relax your tense muscles by focusing on the main pressure trigger points. You can apply the right strength for your different massage needs, which is suitable and easy to use for all ages.
Relieve Muscle Pain & Release Fatigue – You can press, squeeze, and knead to release your tight, stiff, and aching muscles on your neck, shoulder, or leg, so to help improve your blood circulation to release your fatigue, which improve your sleeping quality and maintain good body energy.
Mimic a Massage of Person – The dual trigger point massager balls give feelings like the hands of a massagist for deep penetrating the muscles and instant pain relief. You will feel refreshed and relaxed after just five minutes of massage.
Lightweight & Portable – This handheld massager is only 310g lightweight – less than an apple. Its portable design will be easy for you to enjoy your own personal deep tissue massage wherever at home or on a business trip.
Ergonomic & Flexible Design – Antiskid ergonomically designed handle is very comfortable to grip. The handle is very flexible that can be freely opening-closing to suit your body shape. The whole neck massager is also strong tough and of good quality.
---
Description
Struggling with neck pain, TMJ, and tension headaches?
The Neck Pressure from Bodies will eliminate neck pain in just 10 minutes a day,  or your money back guaranteed!
Naturally Eliminate Neck Pain (no harsh painkillers)
Your own in-home Chiropractor (money back in your pocket)
Reduces the frequency of headaches and migraines
Stress Relieving (sleep, feel and better)
Say Goodbye To Neck Pain, Headaches, Stiffness, Knots & Much More!
This dual pressure point neck massager is a unique hand-held manual massager that allows you to access pressure points to target specific pain areas in the body. Pressing on these pressure points can help eliminate neck pain, tension, stiffness, knots, and muscle soreness.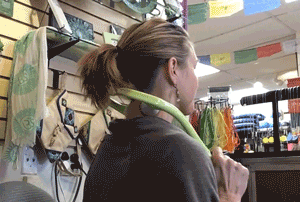 It features two soft yet firm silicone balls that can help loosen up the tense muscle and knots by focusing on the main pressure trigger points.
Relieve Neck, Back, & Shoulder Pain 
The dual pressure point massager relieves pain by applying direct pressure and massaging the trigger points at your neck, back and shoulders. It massages, squeezes, and kneads away all tension and pain.
Massage therapy can reduce fatigue and improve sleep. You can press, squeeze, and knead to release tight, stiff, and aching muscles.
Massage Away Headaches And Migraines 
The Dual Pressure Point Massager effectively helps reduce pain from headaches and migraines by softly massaging the pressure points at your desired pace which causes the knots to be released and helps promote new blood flow.  

Increase Blood Flow Circulation To The Brain And Body 
Massaging the neck can help alleviate headaches by releasing tension and helping blood flow through congested areas. The release of this same pressure causes new blood to flow in. When done to the body this helps alleviate sore muscles and relieves tension and fatigue.

Customize Massage Intensity 
By utilizing the convenient and ergonomic handles, you can fully control every aspect of your massage treatment, thus achieving unparalleled results. Control the pace, direction, and intensity. Feel refreshed and relaxed after just five minutes of treatment.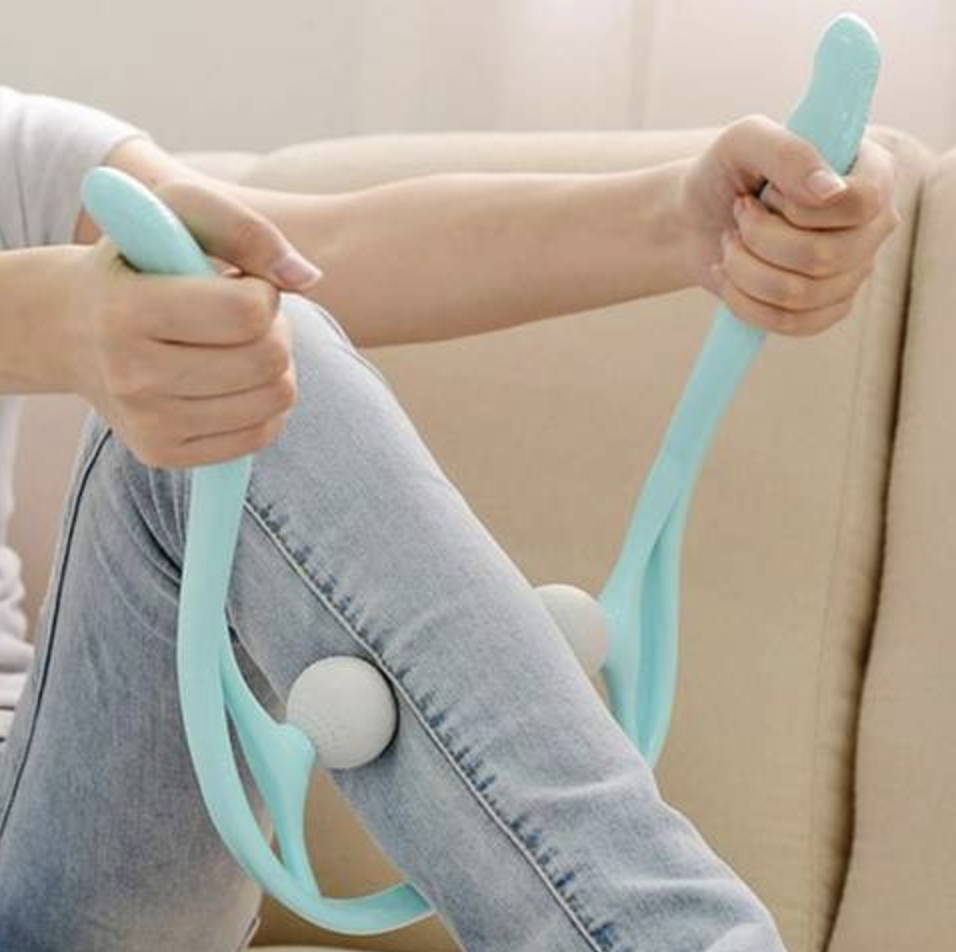 Give Your Legs And Feet The Massage They Deserve 
Foot pain after a long day of walking can be unbearable. Most massagers on the market just don't apply the right amount of pressure to provide relief. You no longer need to tease your feet and can apply as much pressure as they need to get the kind of relief you are looking for.
Convenient And Portable
With this massager, you can give yourself a vigorous and deep massage at home, in your office or school, or while being on the road. Slender and lightweight, you can easily stow it away in your bag, suitcase, knapsack, glove box, drawers, etc. for easy storage.
A quick 5-minutes of daily usage has shown improvement in releasing your fatigue, feeling refreshed, and feeling relaxed after just five minutes of treatment.
Sits hunched at a desk all-day
Suffers from tension headaches and migraines
Is struggling with neck pain & tightness
Then our device has been created for you. Our customers have seen the best results using it straight after work when their neck soreness is at its worst.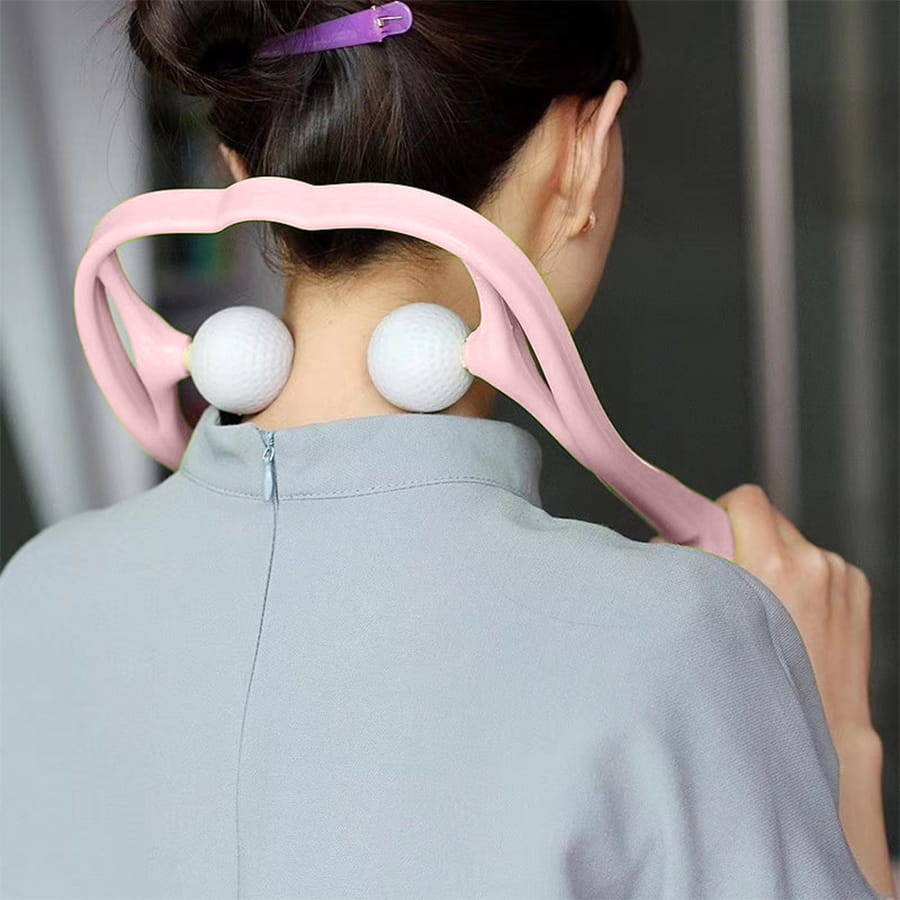 ---
The Dual Pressure Point Massager couldn't be simpler to use.
Step 1 - Hook the device around the back of your neck
Step 2 -Apply pressure to your neck while holding the handles
Step 3 -Roll your hands clockwise to begin massaging your neck
Step 4 - Enjoy that instant pain relief. Be careful, it's addictive!
With just 4 steps and 5 minutes a day, you can get the relief you so desperately crave. What could be easier?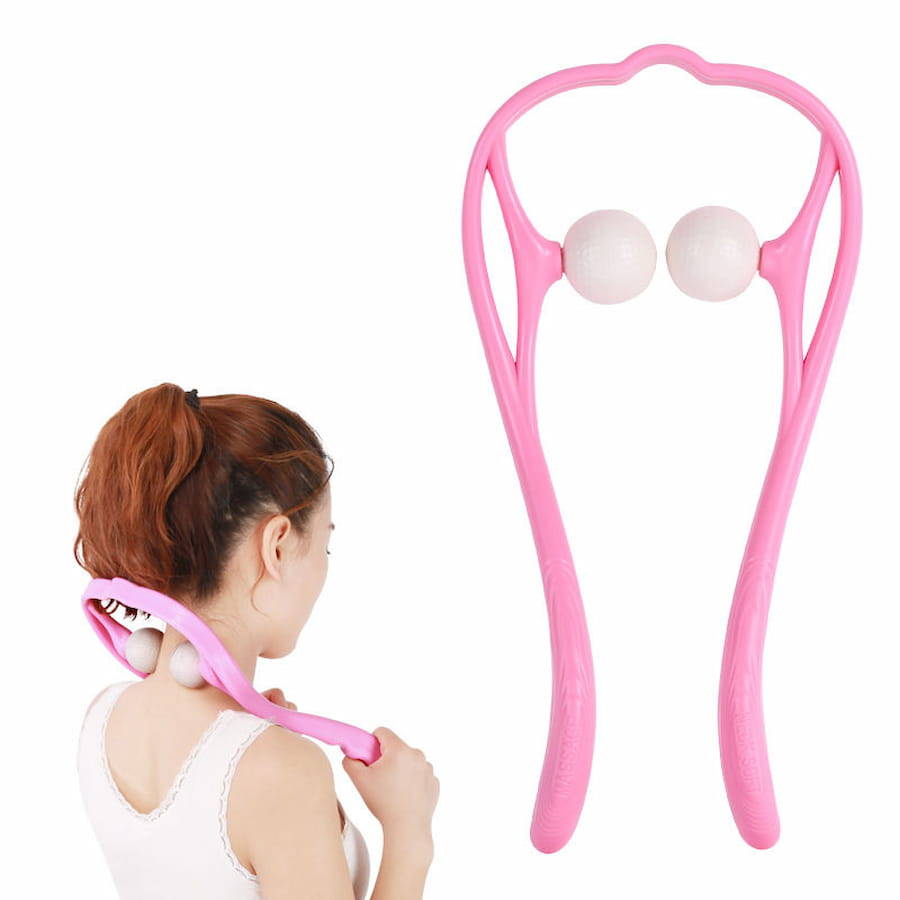 ---
What's Includes:

1 x Dual Pressure Point Massager by Sparkycare

FREE Fast-Action Bonus: Natural Back Pain Remedies eBook

 

($47 Value)
What You'll Discover On The Natural Back Pain Remedies eBook?
Discover the

 top, all-natural remedies to 

eliminate back pain once and for all!





Find out

 

one simple "trick"

 

you can do today that will

 

alleviate persistent back pain quickly!

 

See page 8 for details.

Uncover the

 100% safe at-home strategies

 

you can follow right away in order to

 live a pain-free life!

Learn how

 

"activity rotation"

 

can help you

 

instantly minimize back pain

 

while reducing joint stress!

And much more

 

- all within this special

 

FREE

 eBook

!
---
Specifications
Material: Plastic

Size:  37 x 19 x 5cm

Color: As the picture shows, sent at random

Weight: 240 g

Quantity: 1 PCS
---
FREQUENTLY ASKED QUESTIONS
Q: Do you have a guarantee?
A: We have an iron-clad, risk-free 30-day guarantee that begins only when you receive the product! If you don't have a positive experience for any reason, contact service@boosterss.com and we will help you out.
Q: Do you have a warranty?
A: Yes, each device comes with a 12-month warranty.
Q: What are the shipping details?
A: We offer worldwide shipping! Shipping time will be 5-15 days. All orders are shipped with a tracking number.
Q: How long until I see relief in my neck pain?
A: With just five minutes! Our Dual Point Massager will provide relief from neck pain & tension headaches the first time you use it. With consistent use over two weeks, you will gain benefits that last a lifetime.

Q: How do I use the device?
A: 
1. Put your hands on both handles, and open the device slightly.

2. Place the balls on the desired spot in the neck, we recommend beginning with the tightest spots.
3. Massage by slowly rotating the handles in very small circles, you can adjust the intensity as needed.
4. Use for between 2-5 minutes
5. Feel the tension relief and relaxation.
Q: Will this treat my specific issue?
A: Our Dual Trigger Point Massager is perfect for treating: chronic neck pain, tension headaches, tight & sore neck muscles, desk posture as well as upper back & shoulder pain. It's also great for treating specific conditions like cervical spondylosis, disc degeneration, pinched nerve & herniated disc.
General Shipping Policy
Shipment processing time
After you have successfully placed your order with boosterss.com. Your order will be confirmed within 24 hours. This does not include weekends or holidays.  You will receive an email with information regarding the details of your order.
Your order will be shipped within 2 business days after the order is confirmed.  Purchases made after 1 pm PT will not be shipped out until the next business day. If you order after 1 pm PT on a Friday, your order will likely be shipped out on the following Monday (public holiday is not included).
We currently ship worldwide
2. Shipping Costs & Delivery Times
| | | | |
| --- | --- | --- | --- |
| Shipping Carrier & Service | Total Price | Shipping Cost | Shipping Time |
| STANDARD | Over 59$ | Free | 7-15 Business Days |
| STANDARD | 0-58.99$ | 0-9.99$ | 7-15 Business Days |
| EXPRESS  | Over 0$ | 15.99$ | 3-7 Business Days |
*Affected by Covid-19, there will be some delay on the delivery.
Shipment confirmation & Order tracking
You will receive a Shipment Confirmation email once your order has shipped containing your tracking number(s). The tracking number will be active within 4 days.
Customs, Duties, and Taxes
Booster™ is not responsible for any customs and taxes applied to your order. All fees imposed during or after shipping are the responsibility of the customer (tariffs, taxes, etc.).
Damages
Booster is not liable for any products damaged or lost during shipping. If you received your order damaged, please contact the shipment carrier to file a claim.
Please save all packaging materials and damaged goods before filing a claim.
Covid-19 Information:
Please note, that due to COVID-19, many shipping companies are prioritizing the shipments and receiving emergency and necessary medical equipment. This could mean that your package may be withheld from the shipping company for an extended period of time which would lead to longer wait times and delays. We hope you understand, as this is something completely out of our control.
1、LIMITED WARRANTY TERMS
WARRANTY PERIOD
*The warranty period is 18 months from the date of purchase stated on your proof of purchase. 
HOW DO I CHECK MY 
BOOSTERGUNS
WARRANTY?
If you purchased the BoosterGuns directly at boostess.com, your warranty will have automatically registered.
WHAT IS 
BOOSTER
WARRANTY COVERED?
Booster products are manufactured with high-quality parts designed to last. If any malfunctions occur, your limited warranty covers:
• BoosterGuns Device & Motor - 18 months
• BoosterGuns Lithium-ion batteries - 18 months
•BoosterGuns Massage Attachments - 18 months (You can order new massage attachments at booster).
WARRANTY EXCLUSIONS
The Limited Warranty does not apply to any:
Use in commercial or industrial applications;
Improper power supply such as low voltage, defective household wiring, or inadequate fuses;
Damage caused by external influences;
Damage caused by use with non-approved products and accessories;
Damage caused by operating the Product outside the permitted or intended uses described in the user instructions, such as using in abnormal operating conditions (extreme temperatures);
Damage due to acts of nature, for example, lightning strikes, tornadoes flood, fire, earthquake, or other external causes;
2、REMEDIES
 If a hardware defect is found, Booster will exchange you for a new one, and we don't repair the defective one. 
The purchaser shall not be charged (whether for parts, labor, or otherwise) for the replacement of a defective Product during the Warranty Period.
3、HOW TO OBTAIN WARRANTY SERVICE?
To request a Warranty Service within the warranty period, please first contact the support team for a warranty check. You must provide:
Your name
Contact information
The original invoice or cash receipt, indicating the date of purchase, dealer name, and model number of the product
We will determine the problem and the most appropriate solutions for you. Please keep the packaging your product arrived in or packaging providing equal protection so that you have the required packaging available in the event of a return.
4、CONTACT INFORMATION
For customer support, please email us at
service@boosterss.com
Q&A
1. Q: Does the product have a warranty? What to do if there is an after-sales problem?
A:Our products have an 18-month warranty and we will provide after-sales service. If there is any problem with the product, please feel free to contact us the first time, we will help you solve the problem.

2. Q:How long does it take to ship?Will provide the tracking number?
A:We have warehouses in the United States, Russia, France, Spain, Poland, and the Czech Republic. In the case of stock in an overseas warehouse, it will be shipped from the nearest warehouse according to the receiving address. If shipping from China, we will choose fast logistics, usually you can receive the package within 15 business days after payment.
We will provide a tracking number for each order.

3. Q:Do you provide an English manual?
A:We provide an English manual in the package.

4. Q: What if I am not satisfied with the product?
A:If you are not satisfied after receiving the goods, please contact us as soon as possible. Free return and exchange within 15 days of receipt.

5. Q:How about the quality of the products?
A:My friend, please don't worry about the quality. Booster is a top brand in China, our philosophy is to use technology to protect health and focus on the field of sports recovery. We are committed to producing products with guaranteed quality.
I order the second time. Great thing!!! To the seller special thanks!!! Megaprldadeu!!! There was a problem with one order, he quickly decided. I highly recommend this store!!!
Good product, fast delivery. I am satisfied
Good product, fast delivery. I am satisfied