Automatic Hair Curler
Regular price
$75.99
Sale price
$49.99
Save 34%
/
---
About this item
AUTOMATIC HAIR CURLER- Take a small lock of hair and slip it sideways through the curler slot. It winds the hair inside, then it can get yourself lasting body charming wave hair. Built anti-tangled design, the hair curlers will stop working when the hair is placed too much or incorrectly. Note: Please switch the direction of rotation to release your hair.
CREATE DREAMY BOUNCY CURLS- The wireless hair curler provides 4 temps ( 300°F to 390°F) to fit different hair types. Thinner hair, lower temp. With a timing of 8-18s, it can easily form loose waves or tight curls. Comfortable to hold and is easy to adjust. Quickly create lasting feminine curls. Suitable for anyone that is always in a rush or just always wants those pretty curls in fast time.
HAIR CARE & ANTI-SCALDING- The cordless curling iron adopts nanometer silver, ceramic coating, and tourmaline, max eliminating frizz and preventing the high temp from damaging your hair, making hair smoother and lasting shiny curls. Double-layered heat insulation cover is designed to prevent burning on your fingers or face. No burn the hands like you did when using a curling iron wand.
PORTABLE SPIN HAIR CURLER- No more worrying about tangled cables and horrible storage, cordless design solves all your troubles. Comes with a USB 5V/2A charging cable, and after 3-4 hours of full charge, it can be up to 45 minutes. Spin curling iron will shut off auto after 10 mins if left on and idle, to preserve its life.
PERFECT GIFT- Our Rechargeable auto hair curler is small and delicate. This curling iron rotating is also an ideal gift for women, especially the beach waves curling iron are very popular among girls. Any problems, please feel free to contact us to get a satisfied solution
---
Description 
An automatic curling iron is the perfect new high-tech modeling tool for those who are not used to using traditional wired curling irons.

Feature:
[Easy to Use] - Say goodbye to a traditional curling iron or curling wand. No worry about finding a power supply anymore. No skill is required. Learned how to use it within 1 minute. Everyone can be a hair-curling expert!
[LCD Display] Large LED display presents clear temperature, direction, and timer, it presents more readable and convenient use.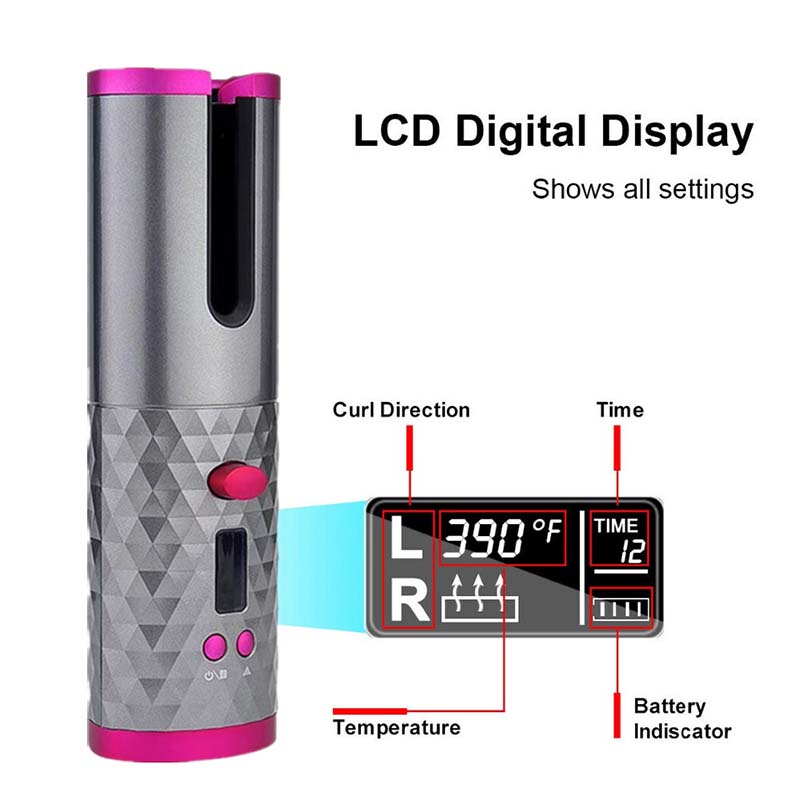 [Two-Way Rotating] With the latest two-way rotation technology, you only need to set the direction of rotation and put the hair in to create a perfect curl. Easy to operate.
[Intelligent System] wireless automatic curling iron can freely set the temperature (150 ° C, 180 ° C, 200 ° C), curling time (8S, 14S,18S ), and the direction of the curls (left or right).
[USB Input and Output] It takes about 4.5 hours to charge the curling iron. It can be used for up to 60 minutes and uses a 5000 mAh lithium-ion battery meanwhile can also be used as a power bank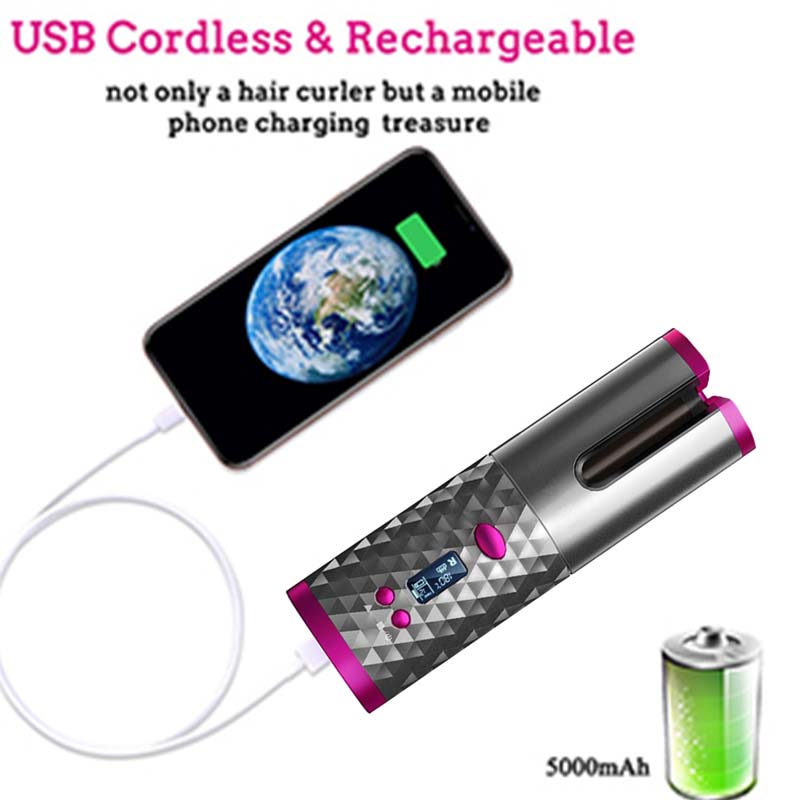 [Easy Use & Portable] The barrel will auto-spin around and wrap a section of hair into a curling chamber. Easy to carry when traveling, can curl your hair anytime and anywhere, far away from the trouble with the line.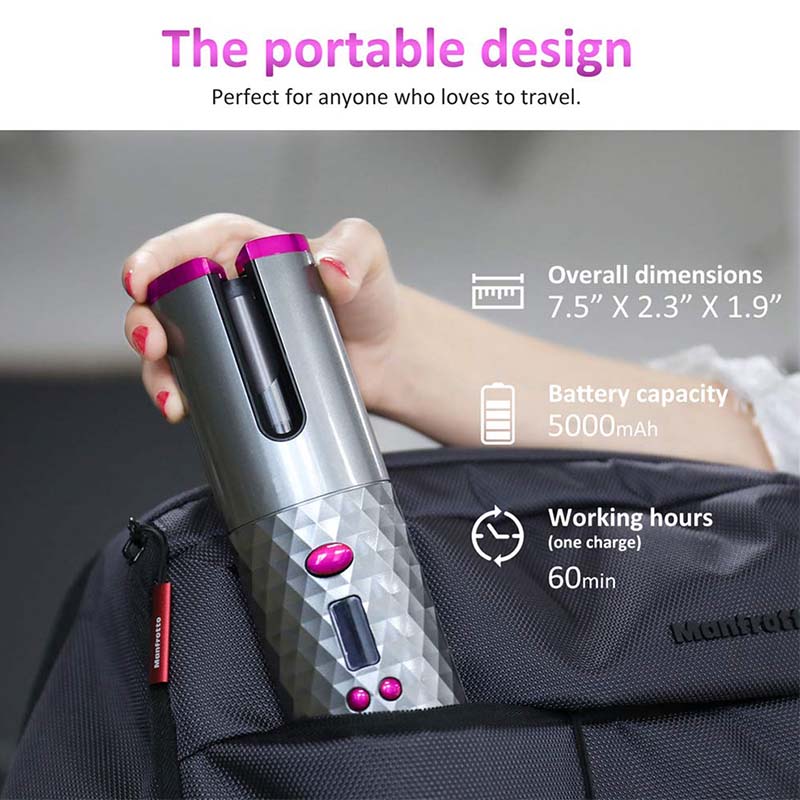 [Hair Repair, Cured] Plant protein coating of the curling iron can effectively repair damaged hair and make it softer and smoother.

Automatic shutdown function; intelligent system (freely set temperature, curl time and curl direction); 6 temperature options and timer (300 ° F-390 ° F temperature selection and 8-18s automatic curl timer)
---
How To Use

Step1: Choose your settings between 150°C/300°F and up to 200°C/390°F depending on your hair type and style.
The rotation of the barrel can be set to curl to either right or left in the settings.
The timer can be set from 8s-18s.


Step2: Press and hold the big oval button after putting a strand of dry hair into the barrel, to start to curl the hair.
The curler will be unable to curl your hair if too much hair is put into the barrel of the Beauty Curler and stops to avoid damage.
Step3: Keep the button pressed, until you hear two quick beeps.
Now pull the curler down to reveal the perfect curl.
Step4: Usable on all hair types and lengths: thin、medium thick
Perfect for beginners and advanced lovers of curly hair.
Create your favorite look wherever you go, fast, hassle, and pain-free.
---
Specification:
✿Type: Automatic Curling Iron
✿Material: ABS
✿Voltage: DC5V
✿Power: 34W
✿Battery capacity: 5000 mAh
✿Charging time: 3-4 hours
✿Use time: about 2 hours
✿Temperature display: ℃/℉
✿6 Temperature Settings: 150°C, 160°C, 170°C, 180°C, 190°C, 200°C (default 180°C at boot)
✿6 time settings: 08s, 10s, 12s, 14s, 16s, 18s (default 12s at boot)
✿2 directions setting: left/right scroll direction
✿Charging display: the battery display flashes when charging, and is always on when fully charged
✿Line length: 79cm±2cm
✿Net weight: 408g

---
Package includes: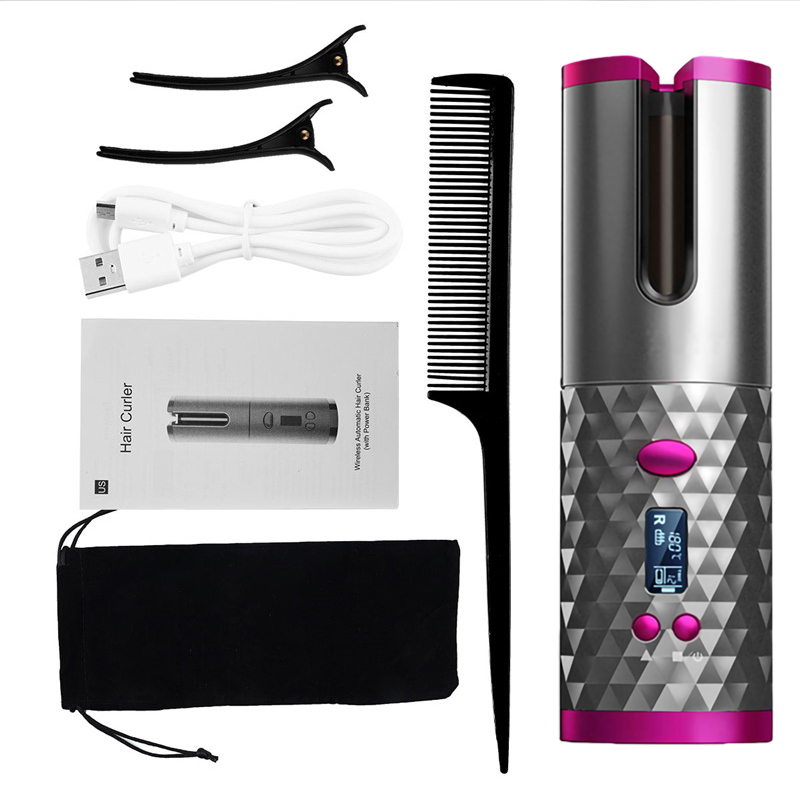 1 x Automatic Hair Curler
* 1 x USB Cable
* 1 x User Manual
* 1 x Storage Bag
* 2 x Hair Clips
* 1 x Comb
---
FREQUENTLY ASKED QUESTIONS
Q: Will this work for shorter hair?
A: Perfect for short hair.
Q: How to use it to avoid tangling?
A: please comb your hair to remove knots before curling, and place no more than 1/2''-1'' strand of hair into the curl chamber for each curling.
Q: Does the hair burn?
A: The instructions say 1 inch, if you follow the instructions this toy is easy to use and makes a beautiful curl in a matter of maybe 30 seconds or less, it never got hot enough to burn no one's hair, never tangle and never burn.
Q: Does this work for short hair?
A: Both my daughter and I have long hair. I guess but would depend on how short. I will say it is an awesome product.
Q: Will it get my hair tangled up?
A: Why does it get tangled?
    1: didn't comb the hair to remove knots
    2: put too much hair to curl the chamber

Q: How to do when it gets tangled?
A: 1: release the start button and pull hair out gently
    2: comb the section of hair to remove knots and make it smooth
    3: place less section of hair into the curl chamber
Q: What are the best temperature/time settings for thin hair?
A: It depends on what types of curled hair you want:
for loose curls, you can set 300-340°F and timer 8-12s
for tight curls, you can set 360-390°F and the timer 13-18s
I hope this may help
Q: Will it automatically switch off?
A: Yes, it will automatically switch off after 10 mins with no use.
Q: Does this product work for black people with natural hair?
A: I have Latina curly thick hair and it works amazingly.
General Shipping Policy
Shipment processing time
After you have successfully placed your order with boosterss.com. Your order will be confirmed within 24 hours. This does not include weekends or holidays.  You will receive an email with information regarding the details of your order.
Your order will be shipped within 2 business days after the order is confirmed.  Purchases made after 1 pm PT will not be shipped out until the next business day. If you order after 1 pm PT on a Friday, your order will likely be shipped out on the following Monday (public holiday is not included).
We currently ship worldwide
2. Shipping Costs & Delivery Times
| | | | |
| --- | --- | --- | --- |
| Shipping Carrier & Service | Total Price | Shipping Cost | Shipping Time |
| STANDARD | Over 59$ | Free | 7-15 Business Days |
| STANDARD | 0-58.99$ | 0-9.99$ | 7-15 Business Days |
| EXPRESS  | Over 0$ | 15.99$ | 3-7 Business Days |
*Affected by Covid-19, there will be some delay on the delivery.
Shipment confirmation & Order tracking
You will receive a Shipment Confirmation email once your order has shipped containing your tracking number(s). The tracking number will be active within 4 days.
Customs, Duties, and Taxes
Booster™ is not responsible for any customs and taxes applied to your order. All fees imposed during or after shipping are the responsibility of the customer (tariffs, taxes, etc.).
Damages
Booster is not liable for any products damaged or lost during shipping. If you received your order damaged, please contact the shipment carrier to file a claim.
Please save all packaging materials and damaged goods before filing a claim.
Covid-19 Information:
Please note, that due to COVID-19, many shipping companies are prioritizing the shipments and receiving emergency and necessary medical equipment. This could mean that your package may be withheld from the shipping company for an extended period of time which would lead to longer wait times and delays. We hope you understand, as this is something completely out of our control.
1、LIMITED WARRANTY TERMS
WARRANTY PERIOD
*The warranty period is 18 months from the date of purchase stated on your proof of purchase. 
HOW DO I CHECK MY 
BOOSTERGUNS
WARRANTY?
If you purchased the BoosterGuns directly at boostess.com, your warranty will have automatically registered.
WHAT IS 
BOOSTER
WARRANTY COVERED?
Booster products are manufactured with high-quality parts designed to last. If any malfunctions occur, your limited warranty covers:
• BoosterGuns Device & Motor - 18 months
• BoosterGuns Lithium-ion batteries - 18 months
•BoosterGuns Massage Attachments - 18 months (You can order new massage attachments at booster).
WARRANTY EXCLUSIONS
The Limited Warranty does not apply to any:
Use in commercial or industrial applications;
Improper power supply such as low voltage, defective household wiring, or inadequate fuses;
Damage caused by external influences;
Damage caused by use with non-approved products and accessories;
Damage caused by operating the Product outside the permitted or intended uses described in the user instructions, such as using in abnormal operating conditions (extreme temperatures);
Damage due to acts of nature, for example, lightning strikes, tornadoes flood, fire, earthquake, or other external causes;
2、REMEDIES
 If a hardware defect is found, Booster will exchange you for a new one, and we don't repair the defective one. 
The purchaser shall not be charged (whether for parts, labor, or otherwise) for the replacement of a defective Product during the Warranty Period.
3、HOW TO OBTAIN WARRANTY SERVICE?
To request a Warranty Service within the warranty period, please first contact the support team for a warranty check. You must provide:
Your name
Contact information
The original invoice or cash receipt, indicating the date of purchase, dealer name, and model number of the product
We will determine the problem and the most appropriate solutions for you. Please keep the packaging your product arrived in or packaging providing equal protection so that you have the required packaging available in the event of a return.
4、CONTACT INFORMATION
For customer support, please email us at
service@boosterss.com
Q&A
1. Q: Does the product have a warranty? What to do if there is an after-sales problem?
A:Our products have an 18-month warranty and we will provide after-sales service. If there is any problem with the product, please feel free to contact us the first time, we will help you solve the problem.

2. Q:How long does it take to ship?Will provide the tracking number?
A:We have warehouses in the United States, Russia, France, Spain, Poland, and the Czech Republic. In the case of stock in an overseas warehouse, it will be shipped from the nearest warehouse according to the receiving address. If shipping from China, we will choose fast logistics, usually you can receive the package within 15 business days after payment.
We will provide a tracking number for each order.

3. Q:Do you provide an English manual?
A:We provide an English manual in the package.

4. Q: What if I am not satisfied with the product?
A:If you are not satisfied after receiving the goods, please contact us as soon as possible. Free return and exchange within 15 days of receipt.

5. Q:How about the quality of the products?
A:My friend, please don't worry about the quality. Booster is a top brand in China, our philosophy is to use technology to protect health and focus on the field of sports recovery. We are committed to producing products with guaranteed quality.
Like the product as photo not yet know use more recommend cuz works and warm and where does the lack of practical curls
The product came well protected and is very good, several types and is easy to use! The first attempts failed, but took the way quickly. Is just wonderful and beautiful, practical and to take the bag. Case is with difficulties, recommend washing the hair before use in cold water, dirty hair curls in any machine. So bought, gave some hours and the seller had not sent, was super satisfied. Exactly 14 days no problem and in perfect condition, recommend too. Today was my first day with it and made the hair all! For people who are afraid of him off because of heat very know that my not hung in no time while all my hair, and only is warm inside, no danger to burn!