Lower Back Pain Stretcher
Regular price
$31.99
/
---
About this item
Relieve pain effectively & improve posture- The back

sciatica stretcher

has 88 plastic needles that relieve back pressure by stimulating the back. And let the spinal return to the natural lines to help stabilize the spinal column and improve flexibility in the back & shoulder muscles.

Supportive

- Sedentary lifestyle, cross-legged, incorrect physical movement, or body fatigue may lead to spinal posture imbalance and pain. Kinder Back pian stretcher is specially designed to restore the natural curvature of the back & relieve back pressure.

Adjustable design

- This spine stretcher is designed to be adjustable in height, with a total of 3 levels, which can be used by most people. You can choose the most suitable and comfortable height to stretch your back and relieve stress. The higher the height you set, the stronger the stretching force you can get.

Durable material

- The lumbar support is made of sturdy ABS and environmentally friendly NBR materials. The back stretcher device can bear up to 330LB, and the foam strip in the middle of the device can provide cushioning so that you can use it more comfortably.
Portable- Good for use at home, at the gym, in the car, or at the office chair.
---
Description
With only 5 to 10 minutes per day, our customers have manifested severe back pain relief after 2 weeks of proper use. The Booster Back Massage Stretcher uses stretching and acupuncture therapy to relieve all forms of back pain by decompressing the vertebrae and improving blood flow through the spine. 
Anyone with back pain knows how much Physiotherapy, Chiropractic, and Massage can cost. This is why we have designed The Booster™ Back Stretcher, the best cost-effective solution to heal Chronic back pain, Muscle stiffness, and Sciatic pain from the comfort of your home.
RELIEVE BACK PAIN INSTANTLY
Booster Back Massage Stretcher is a multi-level stretching device that allows you to stretch out your back, and relieve back pain in less than 10 minutes. The device combines stretching and acupuncture therapy to improve blood flow through the spine, allowing nutrients to flow in, which eventually leads to pain relief.
Using the power of gravity, Booster Back Massage Stretcher Back Stretcher restores the natural curvature of the back, reverses years of damage, and eliminates chronic back pain in just 10 minutes a day, or your money back.
QUICK AND LONG-TERM RESULTS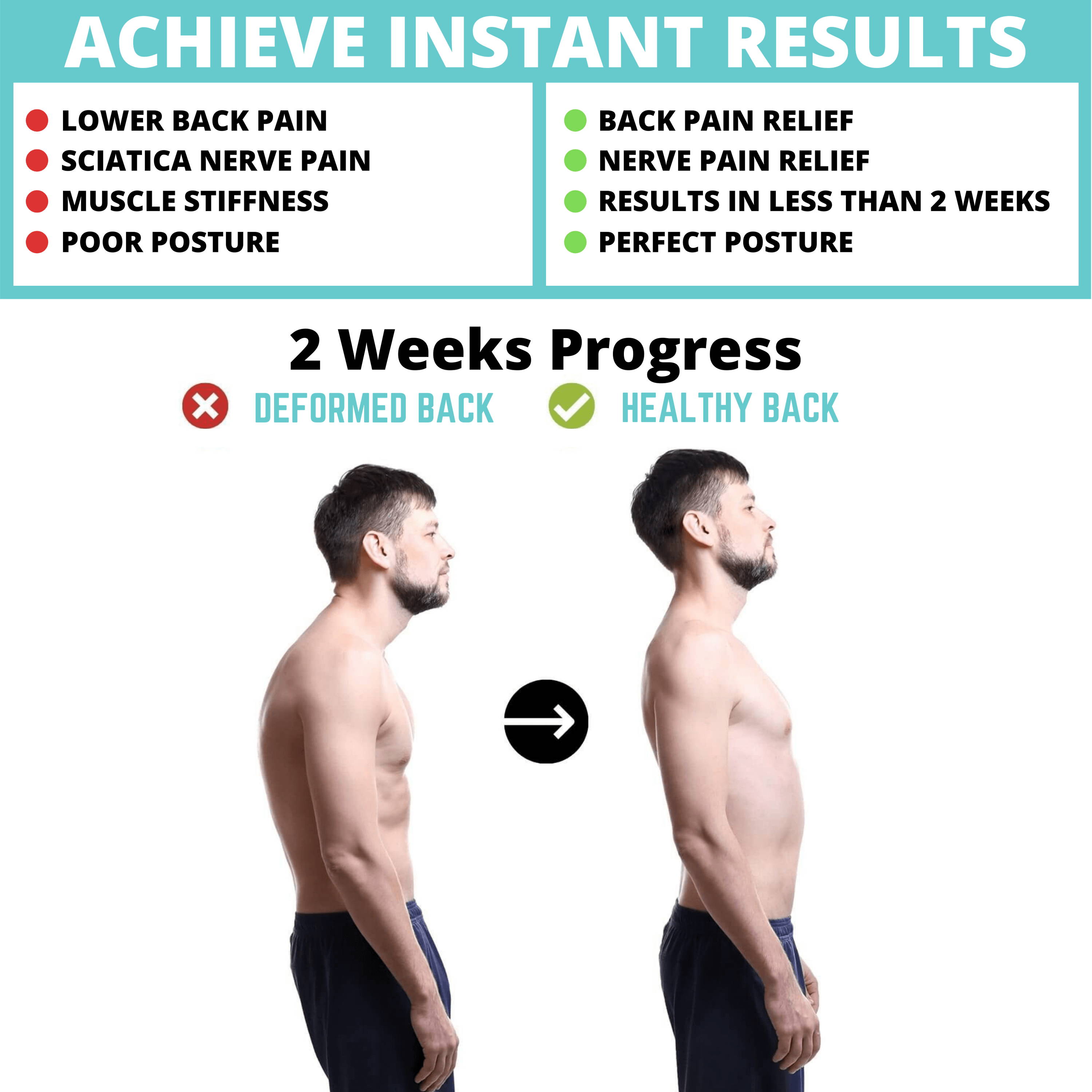 Instant Results: After the first stretching session you will notice incredible improvements and pain relief that lasts the entire day.
Long-Term Fix: On average, our customers have manifested significant improvements after 3 to 5 days of constant and proper use and absolute relief after 2 weeks of use.
Confidence & Posture: It is designed to sync with your spine's natural curvature and be comfortable enough for you to relax and stretch passively. We guarantee you will be walking taller and more confident with a better posture.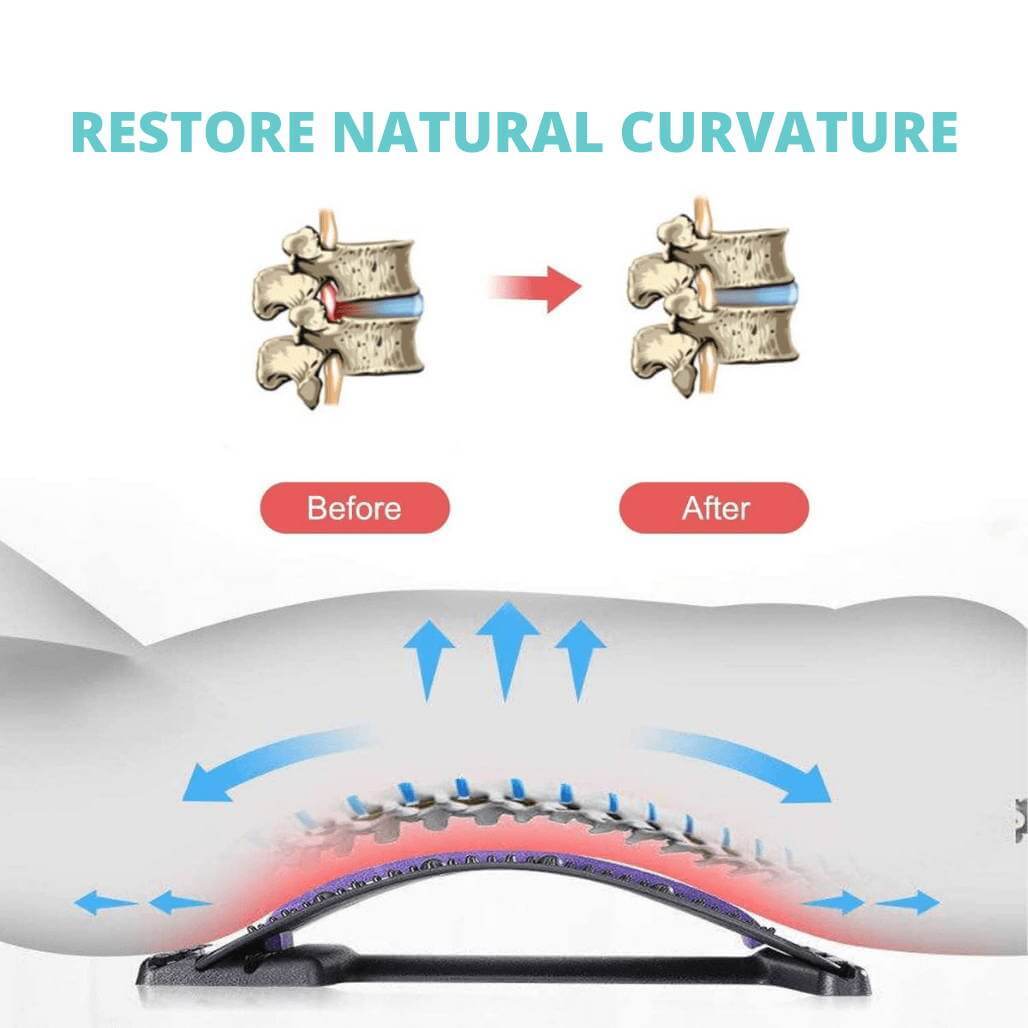 Back pain arises when there is decreased space between the intervertebral discs, which causes issues such as decreased blood flow and pinched nerves. 
Booster Back Massage Stretcher is a flexible device that will allow you to set up three different stretch levels. When lying down, gravity allows the front of your body to effortlessly stretch out and upwards. The surrounding muscles start to relax, gently decompressing the discs in your vertebrae, realigning the spine, and relieving tension and pain. You'll be amazed at how good it feels! 
STRETCHING THERAPY & 3 STRETCH LEVELS
Stretching your back is a simple way to improve the health of your spine and release muscle stiffness. By increasing circulation and lengthening the spine, the back stretcher helps to relieve your back pain. In order to improve the stretching experience, the device allows you to set up three different stretch levels in order to protect your spine and prevent any type of injury. 
For beginners, we recommend starting at the lowest level and after time stepping up to the next level to get better results. 
ACUPUNCTURE THERAPY TO INCREASE CIRCULATION, RELAX, AND REDUCE STRESS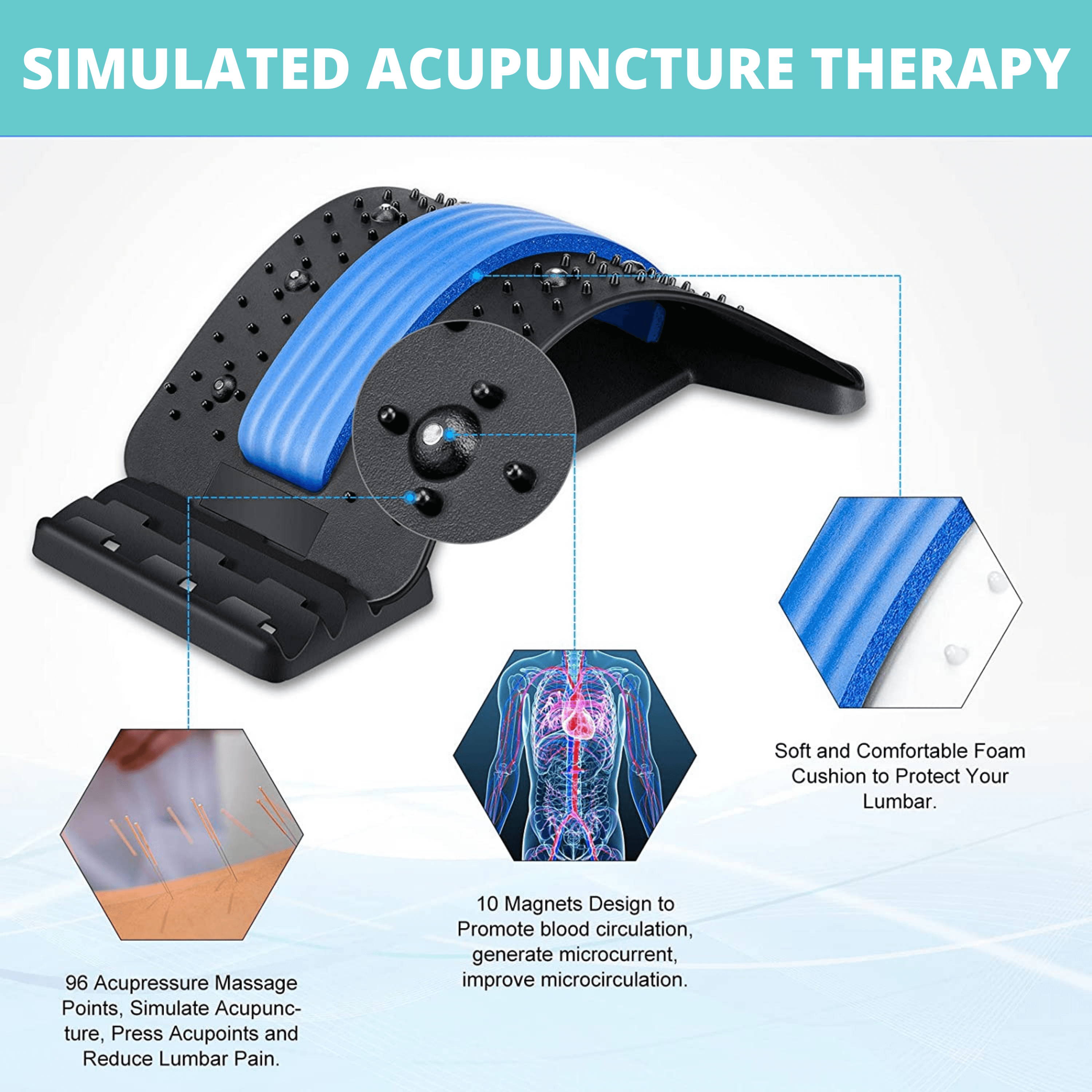 When you are laying down on the back stretcher, your spine decompresses increasing the vertebrae space, and allowing fresh blood to flow into your spinal discs. To improve the effects, our back stretcher also uses 70 acupressure massage points that boost the blood flow even more. 
Spinal discs need the oxygen and nutrients this fresh blood provides to heal the spine and relieve pain. Stretching the spine increases the levels of proteoglycans, a substance found in your spine which plays an important role in the spine´s healing process. 
---
How to use it?

We recommend using Booster™ between 5 to 10 minutes twice a day in order to achieve better results. Below you find a step-by-step guide to set up properly your Back Stretcher: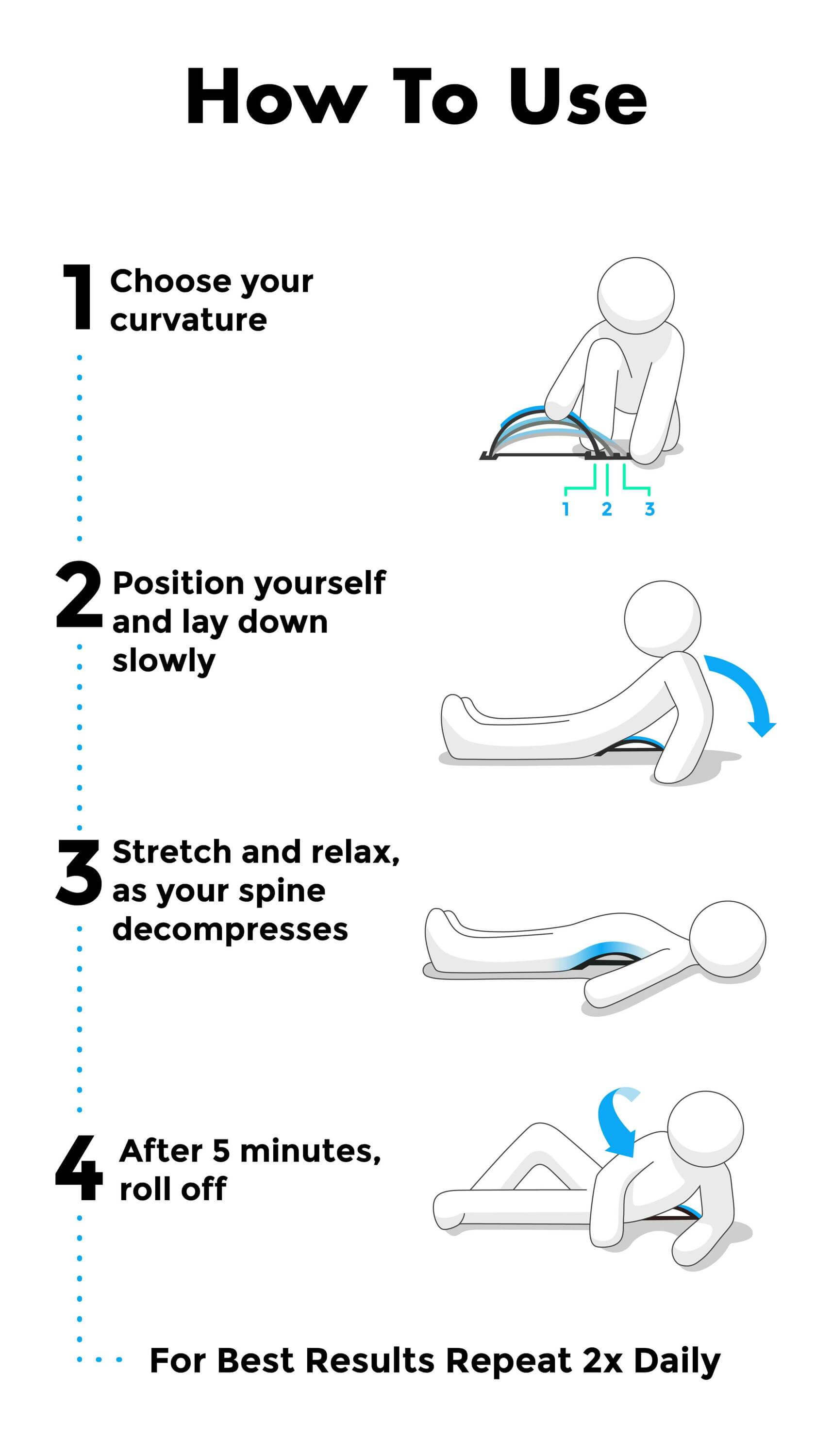 1. Place the base and the arch on a flat surface with the end of the base facing towards you. 
2. Get on your knees to stabilize the base and adjust the wider side of the arch at the end of the base. 
3. Press with your knees at the end of the base, and apply some force to bend the arch. 
4. Finally adjust the arch to the level you want and lay on top of it to start stretching your back. 
WHO IS IT FOR?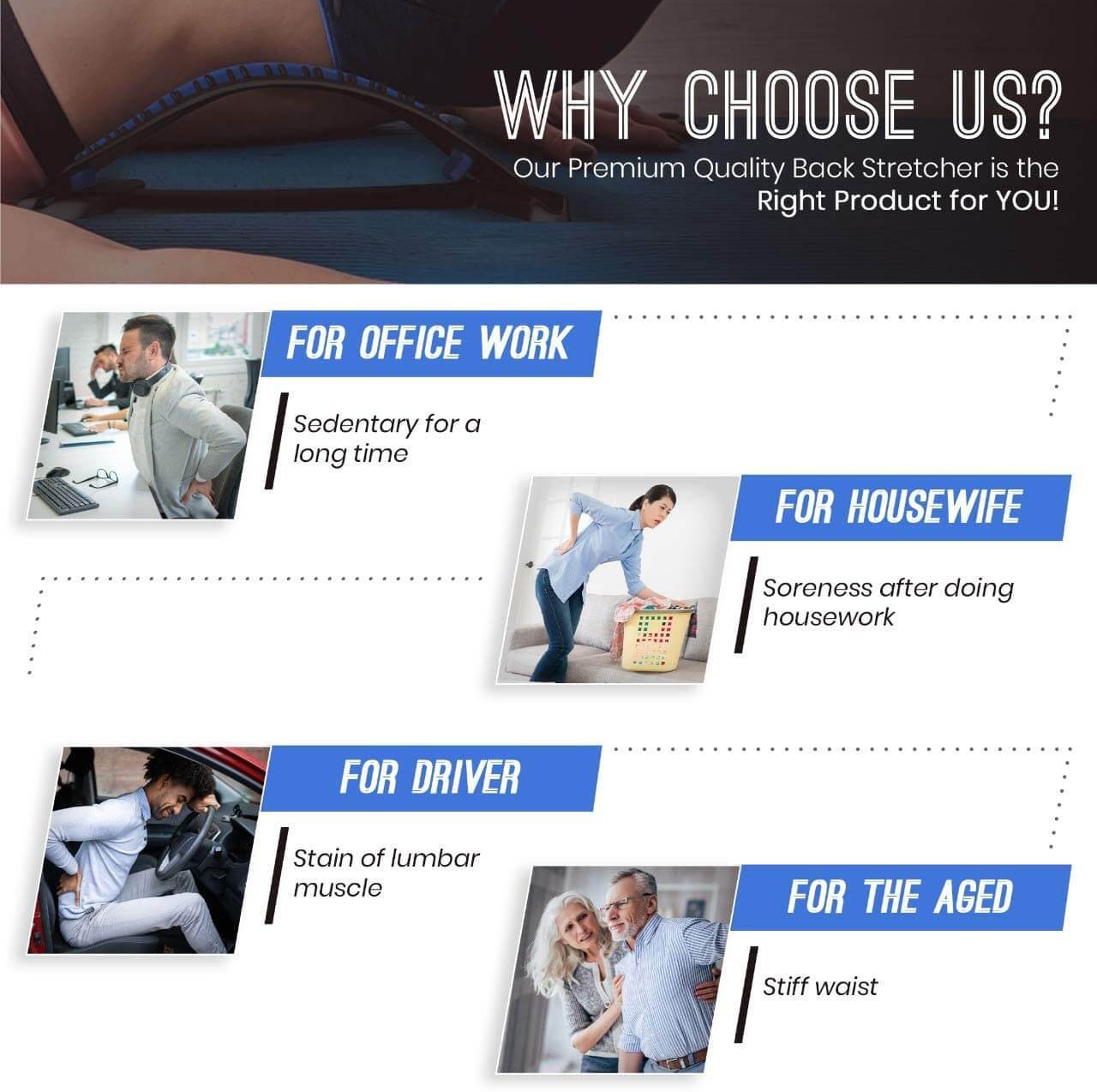 If you sit at the computer often, lift heavy items regularly, suffer back injuries, or simply suffer from chronic back pain then the Booster™ Back Stretcher is perfect for you
Booster™ was specially designed to be your own personal back stretching device that can be used from the comfort of your home, at any time, and for a very low price compared to expensive chiropractic sessions.  
It´s the perfect solution for anyone looking for long-term back pain relief.
---
Specifications
| | |
| --- | --- |
| Color | Black |
| Material | Plastic, Foam, Acrylonitrile Butadiene Styrene |
| Power Source Type | No need Battery Powered, Manual |
| Special Features | Adjustable |
| Specific Uses For Product | Disc herniation |
---

FREQUENTLY ASKED QUESTIONS
Q: What pain does it help with?

A: Back Massage Stretcher helps with back, hip, neck, shoulder, and even head pain. It can alleviate pain caused by Herniated Discs, Bulging Discs, Spinal Stenosis, Sciatica, Pinched Nerves, and more! It stretches your back and naturally decompresses your spine which relaxes your muscles and restores your natural curve.

Q: How long until it helps?
A: Most customers report feeling significant improvement after only 3-5 days of proper use.
Q: Where can I use it?
A: You can use it at home, in the office, or while driving. It can be used laying down or while sitting in a chair.
Q: How long do the benefits last?
A: We recommend using it twice a day for 5 minutes at a time. This will ensure lasting results and continued comfort. Over time, it will significantly improve your posture and strengthen your muscles.
Q: Can I try it risk-free?
A: Yes, you can! We are very confident you will love Booster™, however, in the event that you do not, we have a 30-day money-back guarantee.
Q: Pandemic Situation
A: Our shipping system and logistics are back to normal for most countries. However, there are still slight delays for a few countries. Please note that our entire operations team is working as regular and your inquiries will be responded to as soon as possible at service@boosterss.com
General Shipping Policy
Shipment processing time
After you have successfully placed your order with boosterss.com. Your order will be confirmed within 24 hours. This does not include weekends or holidays.  You will receive an email with information regarding the details of your order.
Your order will be shipped within 2 business days after the order is confirmed.  Purchases made after 1 pm PT will not be shipped out until the next business day. If you order after 1 pm PT on a Friday, your order will likely be shipped out on the following Monday (public holiday is not included).
We currently ship worldwide
2. Shipping Costs & Delivery Times
| | | | |
| --- | --- | --- | --- |
| Shipping Carrier & Service | Total Price | Shipping Cost | Shipping Time |
| STANDARD | Over 59$ | Free | 7-15 Business Days |
| STANDARD | 0-58.99$ | 0-9.99$ | 7-15 Business Days |
| EXPRESS  | Over 0$ | 15.99$ | 3-7 Business Days |
*Affected by Covid-19, there will be some delay on the delivery.
Shipment confirmation & Order tracking
You will receive a Shipment Confirmation email once your order has shipped containing your tracking number(s). The tracking number will be active within 4 days.
Customs, Duties, and Taxes
Booster™ is not responsible for any customs and taxes applied to your order. All fees imposed during or after shipping are the responsibility of the customer (tariffs, taxes, etc.).
Damages
Booster is not liable for any products damaged or lost during shipping. If you received your order damaged, please contact the shipment carrier to file a claim.
Please save all packaging materials and damaged goods before filing a claim.
Covid-19 Information:
Please note, that due to COVID-19, many shipping companies are prioritizing the shipments and receiving emergency and necessary medical equipment. This could mean that your package may be withheld from the shipping company for an extended period of time which would lead to longer wait times and delays. We hope you understand, as this is something completely out of our control.
1、LIMITED WARRANTY TERMS
WARRANTY PERIOD
*The warranty period is 18 months from the date of purchase stated on your proof of purchase. 
HOW DO I CHECK MY 
BOOSTERGUNS
WARRANTY?
If you purchased the BoosterGuns directly at boostess.com, your warranty will have automatically registered.
WHAT IS 
BOOSTER
WARRANTY COVERED?
Booster products are manufactured with high-quality parts designed to last. If any malfunctions occur, your limited warranty covers:
• BoosterGuns Device & Motor - 18 months
• BoosterGuns Lithium-ion batteries - 18 months
•BoosterGuns Massage Attachments - 18 months (You can order new massage attachments at booster).
WARRANTY EXCLUSIONS
The Limited Warranty does not apply to any:
Use in commercial or industrial applications;
Improper power supply such as low voltage, defective household wiring, or inadequate fuses;
Damage caused by external influences;
Damage caused by use with non-approved products and accessories;
Damage caused by operating the Product outside the permitted or intended uses described in the user instructions, such as using in abnormal operating conditions (extreme temperatures);
Damage due to acts of nature, for example, lightning strikes, tornadoes flood, fire, earthquake, or other external causes;
2、REMEDIES
 If a hardware defect is found, Booster will exchange you for a new one, and we don't repair the defective one. 
The purchaser shall not be charged (whether for parts, labor, or otherwise) for the replacement of a defective Product during the Warranty Period.
3、HOW TO OBTAIN WARRANTY SERVICE?
To request a Warranty Service within the warranty period, please first contact the support team for a warranty check. You must provide:
Your name
Contact information
The original invoice or cash receipt, indicating the date of purchase, dealer name, and model number of the product
We will determine the problem and the most appropriate solutions for you. Please keep the packaging your product arrived in or packaging providing equal protection so that you have the required packaging available in the event of a return.
4、CONTACT INFORMATION
For customer support, please email us at
service@boosterss.com
Q&A
1. Q: Does the product have a warranty? What to do if there is an after-sales problem?
A:Our products have an 18-month warranty and we will provide after-sales service. If there is any problem with the product, please feel free to contact us the first time, we will help you solve the problem.

2. Q:How long does it take to ship?Will provide the tracking number?
A:We have warehouses in the United States, Russia, France, Spain, Poland, and the Czech Republic. In the case of stock in an overseas warehouse, it will be shipped from the nearest warehouse according to the receiving address. If shipping from China, we will choose fast logistics, usually you can receive the package within 15 business days after payment.
We will provide a tracking number for each order.

3. Q:Do you provide an English manual?
A:We provide an English manual in the package.

4. Q: What if I am not satisfied with the product?
A:If you are not satisfied after receiving the goods, please contact us as soon as possible. Free return and exchange within 15 days of receipt.

5. Q:How about the quality of the products?
A:My friend, please don't worry about the quality. Booster is a top brand in China, our philosophy is to use technology to protect health and focus on the field of sports recovery. We are committed to producing products with guaranteed quality.