EMS Foot Massager
Regular price
$32.99
/
---
About This Item
Enjoy a Relaxing Foot Massage in The Comfort of Your Home.
[Powerful and innovative foot massager] High-tech foot massager provides different treatment methods and strengths for your soles and body. Use low-frequency pulse technology (EMS) to massage the
[9 kinds of intensity and 6 kinds of massage modes] 9 kinds of intensity and 6 kinds of vibration modes can directly stimulate acupuncture points, which can quickly relieve pain, relieve physical
[Foldable design] Unlike traditional heavy foot massagers, our products are just soft and comfortable foot pads. It is lightweight, foldable, and easy to carry around.
[Silent operation, easy to clean] Made of soft yoga mat material, leather surface, dry with a wet towel after use. Quiet, no noise can be used when watching TV, reading, or working in the office.
[Widely applicable] Especially suitable for travelers, middle-aged and elderly people, office crowd, women who often wear high-heeled shoes, etc. Relax your feet and eliminate fatigue on a busy day.
---
Description 
Enjoy a Relaxing Foot Massage in The Comfort of Your Home.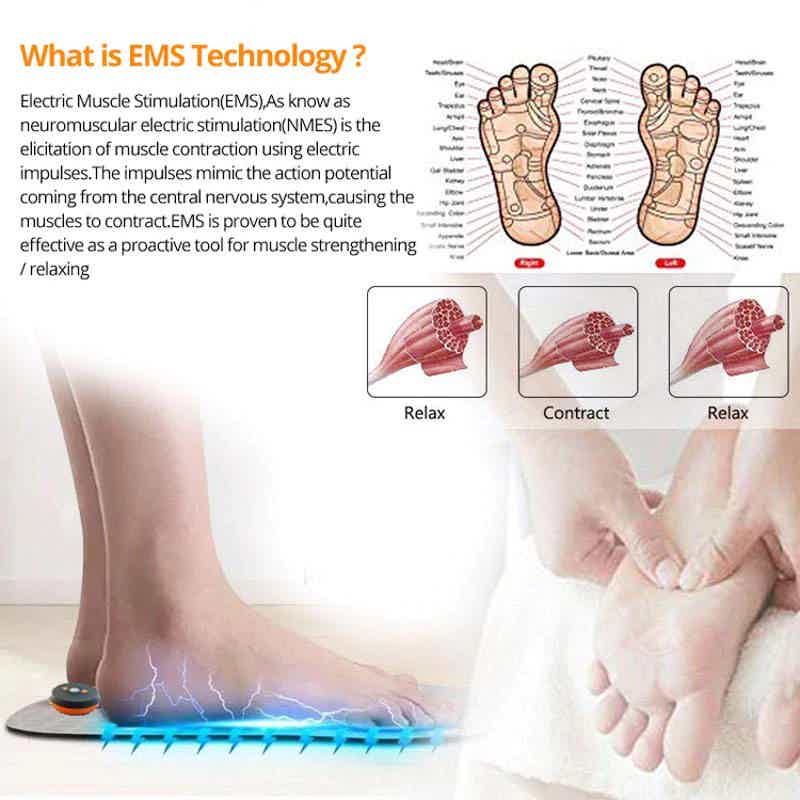 Don't neglect your feet. statistically, they are the appendages people tend to use most often but take care of the least. And if you don't take good care of them, you can suffer from various nasty conditions, such as chronic pain, aches, and poor blood circulation. But if you're already suffering from any of the above, fret not, for Evalax has the device for you! 
Introducing Booster™ EMS Foot Massager
Just 15 minutes per day may help maintain healthy leg circulation, provide fast-acting relief from swollen legs and feet and ease tired, aching legs. Allows you to sit back, relax and let the EMS Foot Massage Pad go to work while you are reading, watching the TV, or enjoying a cup of tea.
Features:
Made from natural resin that's non-toxic to the skin
Designed to complement the contour of the foot's natural shape
Made with infrared heating elements that can be controlled with the control panel
Stimulates feet, muscles, and calves using low-frequency vibrations
Compact & portable design
Safe & effective. Can be used daily
✅ Low frequency is a special kind of electricity with a stable rhythm or stop. The low frequency acts on the body according to the appropriate power and speed. The body produces rhythm and sequence pulses. The softness of the low frequency is the same as the massage effect, as the pressure of the hands. Pinch and percussion.
✅ Electrical muscle stimulation (EMS), also known as neuromuscular electrical stimulation (NMES), uses electrical impulses to activate muscle contractions. Impulses simulate action potentials from the central nervous system, causing muscles to contract. EMS has proven to be a very effective tool for active muscle training.
✅ 6 modes to choose from, easy to operate. If you forget to shut down after 12 minutes of a shutdown, it will automatically shut down. There are 9 levels of stimulation intensity (intensity 1-9)
Benefits:
Treatment For

Diabetics 

Treatment For

Hypertension

Treatment For

Circulation 

Treatment for

Pain & Swelling

EMS Physical

Fat Loss & Shaping

Provides

Overal

l

Energy & Wellbeing 
---
How To Use the EMS Foot Massager?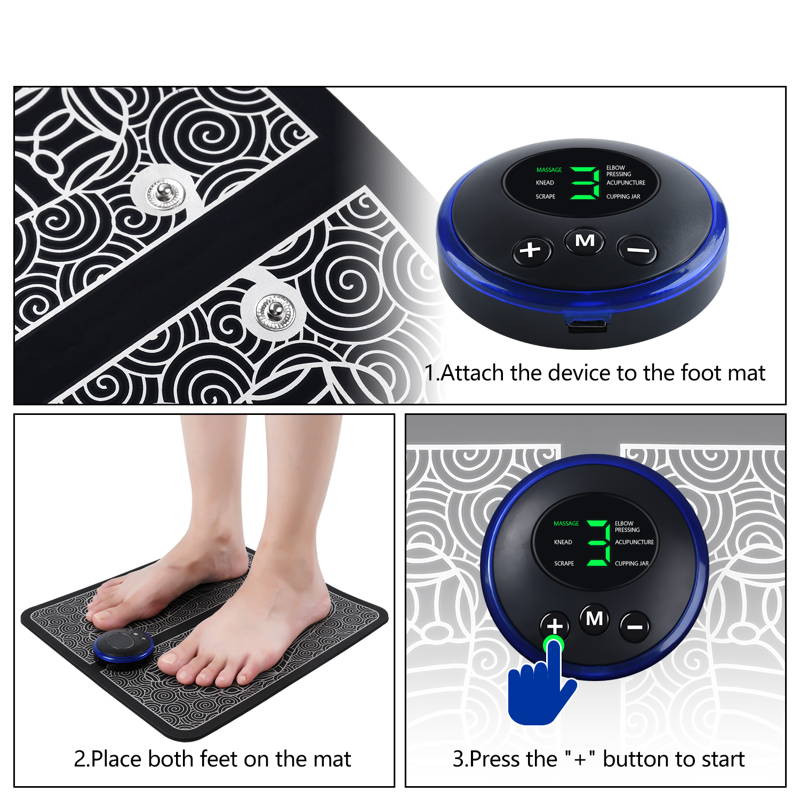 1. Fully charge the massage device before the first use 
2. Install the massager on the foot mat.
3. Place both feet on the mat.
4. Press "+" to switch it on. Press "M" to switch between six modes.
Cleaning the foot mat
1. When cleaning the foot mat, please turn off and detach the massager.
2. Wipe with neutral detergent with a soft cloth during daily maintenance, do not use corrosive detergent, and don't place it into the water for soaking or washing.
3. When it is particularly dirty, use a little medical alcohol (75% concentration) to wipe.
Recharging the main device
1. Plug in the micro USB cable to the main device.
2. There will be a red light indicating the device is charging.
3. The red light will turn off when the device is fully charged.
---
Specifications:
Size: 320 x 320mm
Weight: 200g
---
Package Includes:
1 x Electric Foot Massager Pad
1 x USB Charging Cable
1 x Digital Controller 
1 x Instruction Manual 
---
FREQUENTLY ASKED QUESTIONS
Q: Can I use it if I have an injury?
A: If you have a broken bone or an open wound, you should not use a foot massager. If you have sprained your ankle, it is safe to use a foot massager
Q: What kinds of feelings should I be expecting from this device?
A:
This device uses EMS technology. You will feel little shocking vibrations. If you feel like the shocks are too intense, you can easily adjust the intensity level with the remote.
Q: Are these sticky? Do you put a dry foot on them or use a gel?
A:
No, They are not sticky. You can use a dry foot on them.
Q: Does this help with blood circulation?
A

:
Yes it would if you use it on a daily basis, just be careful with the high settings as they are solid.
Q: How long should I use it?
A:
The device automatically turns off after 15 minutes of use, which is the duration of treatment we recommend per day. After 1-2 weeks of consistent use, you should be able to feel great improvement.
Q: Is this safe for everyone?
A: While this massager is great for chronic pain in your feet, it's not for everyone. We advise that you seek out other options if you:
● Have a pacemaker or cardiac problems
● Anyone that has high blood pressure.
● Have undergone surgery recently
● Are pregnant
● Suffer from extreme varicose veins
● Have any type of sensory nerve damage.
General Shipping Policy
Shipment processing time
After you have successfully placed your order with boosterss.com. Your order will be confirmed within 24 hours. This does not include weekends or holidays.  You will receive an email with information regarding the details of your order.
Your order will be shipped within 2 business days after the order is confirmed.  Purchases made after 1 pm PT will not be shipped out until the next business day. If you order after 1 pm PT on a Friday, your order will likely be shipped out on the following Monday (public holiday is not included).
We currently ship worldwide
2. Shipping Costs & Delivery Times
| | | | |
| --- | --- | --- | --- |
| Shipping Carrier & Service | Total Price | Shipping Cost | Shipping Time |
| STANDARD | Over 59$ | Free | 7-15 Business Days |
| STANDARD | 0-58.99$ | 0-9.99$ | 7-15 Business Days |
| EXPRESS  | Over 0$ | 15.99$ | 3-7 Business Days |
*Affected by Covid-19, there will be some delay on the delivery.
Shipment confirmation & Order tracking
You will receive a Shipment Confirmation email once your order has shipped containing your tracking number(s). The tracking number will be active within 4 days.
Customs, Duties, and Taxes
Booster™ is not responsible for any customs and taxes applied to your order. All fees imposed during or after shipping are the responsibility of the customer (tariffs, taxes, etc.).
Damages
Booster is not liable for any products damaged or lost during shipping. If you received your order damaged, please contact the shipment carrier to file a claim.
Please save all packaging materials and damaged goods before filing a claim.
Covid-19 Information:
Please note, that due to COVID-19, many shipping companies are prioritizing the shipments and receiving emergency and necessary medical equipment. This could mean that your package may be withheld from the shipping company for an extended period of time which would lead to longer wait times and delays. We hope you understand, as this is something completely out of our control.
1、LIMITED WARRANTY TERMS
WARRANTY PERIOD
*The warranty period is 18 months from the date of purchase stated on your proof of purchase. 
HOW DO I CHECK MY 
BOOSTERGUNS
WARRANTY?
If you purchased the BoosterGuns directly at boostess.com, your warranty will have automatically registered.
WHAT IS 
BOOSTER
WARRANTY COVERED?
Booster products are manufactured with high-quality parts designed to last. If any malfunctions occur, your limited warranty covers:
• BoosterGuns Device & Motor - 18 months
• BoosterGuns Lithium-ion batteries - 18 months
•BoosterGuns Massage Attachments - 18 months (You can order new massage attachments at booster).
WARRANTY EXCLUSIONS
The Limited Warranty does not apply to any:
Use in commercial or industrial applications;
Improper power supply such as low voltage, defective household wiring, or inadequate fuses;
Damage caused by external influences;
Damage caused by use with non-approved products and accessories;
Damage caused by operating the Product outside the permitted or intended uses described in the user instructions, such as using in abnormal operating conditions (extreme temperatures);
Damage due to acts of nature, for example, lightning strikes, tornadoes flood, fire, earthquake, or other external causes;
2、REMEDIES
 If a hardware defect is found, Booster will exchange you for a new one, and we don't repair the defective one. 
The purchaser shall not be charged (whether for parts, labor, or otherwise) for the replacement of a defective Product during the Warranty Period.
3、HOW TO OBTAIN WARRANTY SERVICE?
To request a Warranty Service within the warranty period, please first contact the support team for a warranty check. You must provide:
Your name
Contact information
The original invoice or cash receipt, indicating the date of purchase, dealer name, and model number of the product
We will determine the problem and the most appropriate solutions for you. Please keep the packaging your product arrived in or packaging providing equal protection so that you have the required packaging available in the event of a return.
4、CONTACT INFORMATION
For customer support, please email us at
service@boosterss.com
Q&A
1. Q: Does the product have a warranty? What to do if there is an after-sales problem?
A:Our products have an 18-month warranty and we will provide after-sales service. If there is any problem with the product, please feel free to contact us the first time, we will help you solve the problem.

2. Q:How long does it take to ship?Will provide the tracking number?
A:We have warehouses in the United States, Russia, France, Spain, Poland, and the Czech Republic. In the case of stock in an overseas warehouse, it will be shipped from the nearest warehouse according to the receiving address. If shipping from China, we will choose fast logistics, usually you can receive the package within 15 business days after payment.
We will provide a tracking number for each order.

3. Q:Do you provide an English manual?
A:We provide an English manual in the package.

4. Q: What if I am not satisfied with the product?
A:If you are not satisfied after receiving the goods, please contact us as soon as possible. Free return and exchange within 15 days of receipt.

5. Q:How about the quality of the products?
A:My friend, please don't worry about the quality. Booster is a top brand in China, our philosophy is to use technology to protect health and focus on the field of sports recovery. We are committed to producing products with guaranteed quality.